March 21, 2006
Last Wednesday was the opener in the SC Low Country and I headed down that afternoon. They had some excitement before I arrived with our host Brady missing a gobbler a time or two the first morning after hearing a barrage of gobbling at daylight. That evening, in the same area after watching around 50 turkeys, Ken was able to bag a really nice longbeard as he was slipping out in a field in the late afternoon.

The next morning several of us (Brady, Mel, Diablo, Josey and I) all started along the edge of the swamp where the 50 birds were seen the day before. For those of you that don't know… turkeys catch on quick! All they need is to be shot at or see on of their buddies whacked and it becomes a different ballgame. We heard several turkeys gobbling back in the swamp and Mel and I had one hen come by us at about 6 feet. Diablo and Josey had several gobblers fairly close and worked them for quite a while but they wouldn't come out of the swamp. Finally, about 8:30 4 jakes made their way across the field to Diablo and Josey and after doing a dance in the blind to get turned around Josey was able to bust one jake about 30 yards and as another one took flight he dumped him in the ditch as well. (2 birds a day is legal in SC).

That afternoon we all headed out to watch some fields and try to roost birds for in the morning. The afternoon was really slow for everyone except Mel who had setup in the hotspot and had 12 turkeys feed right in on him. He noticed that one of them had a nice beard and dwarfed the other turkeys. He had a thought that it might be a bearded hen, but wasn't totally sure and decided to go ahead and take the 25 yards shot. He made it and had a beautiful bearded hen for his long hours in the blind. She weighed in at 14 pounds and had a 7.5" beard.

Friday morning Diablo, Ken, and I headed out to a place where a local had been seeing turkeys on his way home from work. After slipping out to a field corner we listened for a while after daylight and heard no gobbling. We headed around the edge of a big field bordering a swamp and finally saw 1 set of hen tracks. We hustled out of there and headed to the lease where we killed my gobbler last year. Sure enough, we slipped down the road and got a bird to answer Diablo's yelping. We were closing the distance and he gobbled 2 more times on his own. Things were looking good. We headed up to a pretty patch of open pines and a logging road running down toward a swamp. Thinking the turkey would slip up the logging road we got ready and Diablo called. No answer… he called a little more and no answer… again, we called and no answer. Knowing we didn't spook the bird we just decided to sit tight and let things develop. After about 30 minutes I think we heard a bird start clucking and then flying. Thinking a bird had flown the swamp we once again got ready. Nothing. We were calling on and off this whole time. After another 30 minutes I heard a turkey fly and looked almost in front of our position and saw a gobbler gliding from right to left and landing about 70 yards from our setup. He was a cautious sucker slipping along and checking out our setup. He continued crossing about 60 yards out and with Diablo and I softly calling finally calmed him down enough that he dropped into strut a time or two. He slowly turned and started coming back our way ever so slowly. I was trying to film and also do some soft calling since Diablo had his gun up and ready to shoot. The gobbler finally broke somewhat and closed into range. At 45 yards the gobbler craned his head up and uttered a dreaded putt. I whispered to Diablo that he was shotgun range and if he was going to do it he better do it. Not one to have to be told twice Diablo was ready to shoot and the gobbler luckily turned back to our right and stepped into an opening. Diablo's 870 barked and the turkey was headed for a dirt nap. It was a beautiful 3 year old gobbler with a nice beard. Ken was gracious enough to share this spot again and "gift" another gobbler to us. It was a fun hunt, not your typical gobbling fest, but it had some exciting moments. Poor Ken was on the backside of tree and thought the whole time we were working the turkey that we were just milking it for footage. That wasn't the case and as soon as Diablo shot Ken said "it's about time you shot!!" Fun hunt all the way around! Here is Diablo's gobbler along with the gobbler Ken killed…

<![if !vml]>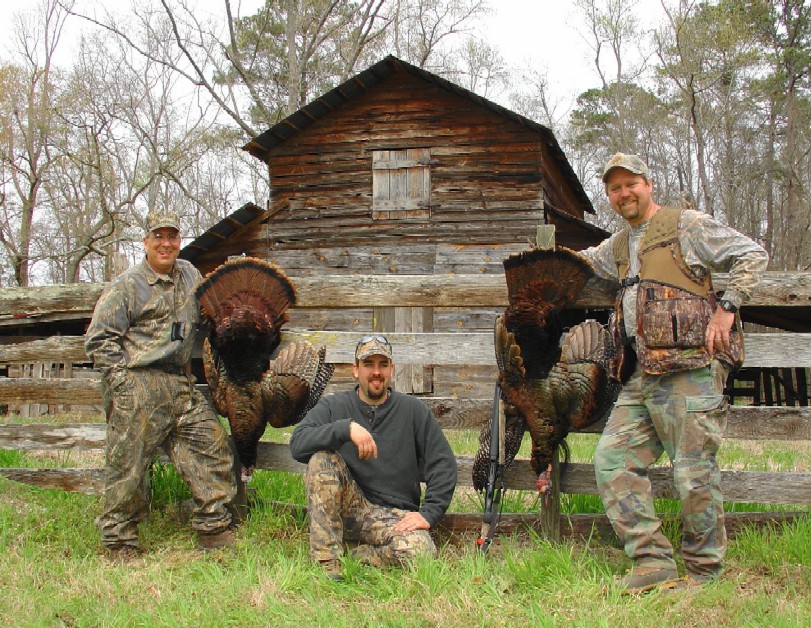 <![endif]>

Friday afternoon we headed over to one of the landowners to chat with him and ended up fishing in one of his ponds. We had a blast catching bream, a big catfish, and some shad on a "Bream Buster" pole. But the best part of the afternoon was listening to the older landowners stories. A great way to spend a relaxing afternoon.

Saturday morning was cold and windy and found Diablo, Ken and I camped out under a huge pine on the end of the swamp. We heard a few birds gobble but nothing close and really no excitement that morning. We were all running out of "butt-patience" and headed back to the house for breakfast. While getting ready to eat breakfast I went out the door and looked into the field and probably 300 yards in the field was a big gobbler just feeding along. We all gathered and watched the gobbler and was just putting together a strategy for getting into position to maybe try and work him. About that time the gobbler turns and runs back into the woods. Ken then spotted the dog that spooked the gobbler. We hadn't been seeing as many turkeys on this place as in the past and after several other encounters during the week we think the dogs were the reason why! Ken took off to scare the dog and try to keep him from coming back.

Saturday afternoon Brady was back with his youngest son Daniel and we were about to have a great hunt. We slipped into a blind on a field edge that we had let rest for a day and half. Not long after getting setup we started hearing and seeing turkeys come out of the woods. Several different hens made their way out into the field and headed on across. We then had 3 hens come right to the blind and I think the sound of the video camera coming on spooked them back into the woods. After a while though we were able to call them right back out and right by the blind. It was getting late and after watching all sorts of wildlife from ducks to doves we thought it was pretty much over when I looked over to the left and a big gobbler stepped right out of the woods. He was about 50 yards but unfortunately was already headed for the hens still in the field. Brady and Daniel got ready in a flash and Daniel was ready to shoot but the gobbler just wouldn't come close enough. Our calling was not competition for the real hens in the field. We had to watch him strut by at 60 yards and then head in the field. I've never wanted a turkey to come into shotgun range so bad in my life! We all talked about how excited each of us were, I can only imagine what would have happened had we been able to kill him. There will be plenty of opportunities for Daniel though! Thanks for letting me be a part of that hunt guys!

The next morning the plan was for Brady and Daniel to get back in that blind and Diablo and I hunt further down in the swamp. Daniel decided to sleep in so Diablo and I headed on to the spot we selected and just as we were crossing into the edge of the swamp a turkey gobbled. It was early, really early. A heron had gotten up out of the swamp and his raucous call was what made the gobbler sound off. We slipped as close as we thought we could get and setup. He gobbled good in the tree and when flydown time came he pitched down our direction. He had no shortage of hens with him either. Even though we are pretty sure we had the gobbler in shotgun range it just wasn't open enough to get a shot or even see him. We could hear him spitting and drumming and even thought we could hear his wings dragging in the leaves. He gradually worked his way down the swamp and we watched as no less than 15 hens flew down to his side. We heard a lot of vocalizations including several fights. We were so close on this one! We made one last circle and discussed options for hunting the place next year. We'll be back!

I want to thank everyone that was on this hunt. We had a wonderful time, wonderful food, and wonderful fellowship. Thanks so much for the invite to hunt down there! Can't wait to do it again!!

<![if !vml]>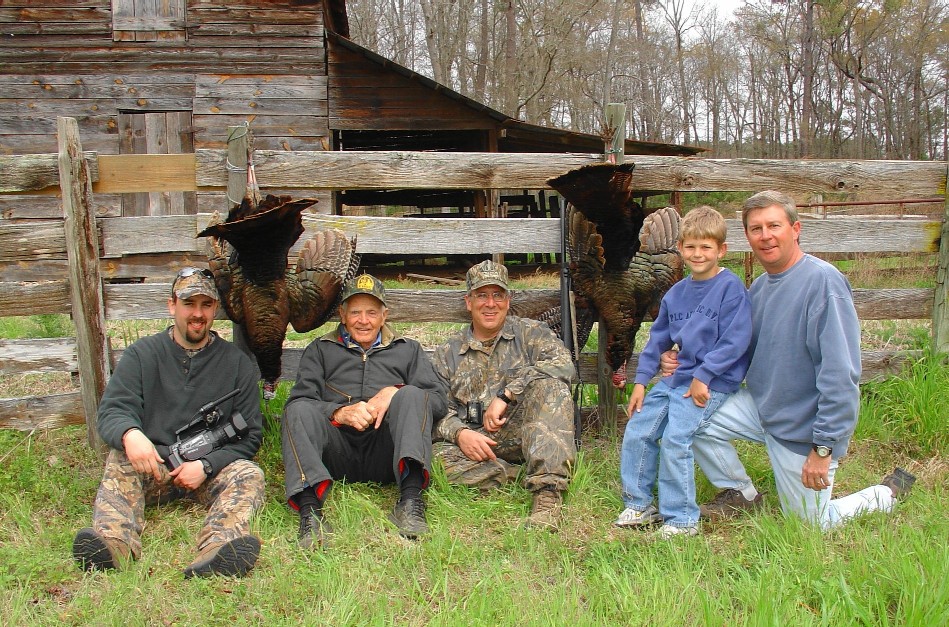 <![endif]>
March 22, 2006
This cool snap will probably slow them down a bit. I've been seeing a lot of strutters and heard a little gobbling so far. I'm slowing down for this season and will probably only hunt SC (see above), maybe TN and/or KY, possibly WV, and of course VA. I was a little late getting my diary started but hope to keep it updated pretty regularly here on out! Enjoy!!!
March 30, 2006
With the season approaching I've been out scouting quite a bit this week and hearing a decent amount of birds. Right now it seems as if it's mostly roost gobbling and the birds are still pretty flocked up. The dry weather has really kept the fields from greening up and I haven't been seeing them as much. They are there though! Another report soon...
April 3
I headed down to TN for opening weekend to carry the camera and tag along with GN.

First morning...

GN had knocked on the doors in the winter and found a new place which he had scouted earlier in the week and located several gobblers around a small green field absolutely littered with droppings... BIG droppings! He had several places to look at, But thought this place should be the first stop. He had the plan all laid out when I arrived Friday night. We got up really early Saturday morning and it was supposed to be beautiful...Good thing we started earlier as the closer we got to the place, the slower the drive and the thicker the fog got. It is a white out when we get out of the truck. We slipped in to this field edge, put out 2 hens and a jake decoy, built a small blind with a stake blind and some cedars and settled in, realizing we could not see 50 yards at the most. The fog was thick and we really didn't expect much, if any, gobbling. I got the video setup and ready. Sure enough daylight started to break and the woods were quiet. Just at 6:00 AM GN says "I hear a hen yelping right there." She yelp once more and then she flew directly into the field edge. She had barely touched the ground when a huge commotion came out of the trees right where she came from, but this one had wings flapping and limbs breaking. GN said it sounded like a B52 stalled out and was coming in, smashing timber and clearing a landing path! It was obviously a big gobbler and he landed in the field probably 70 yards out. We do not know because we could not see him for the fog, We just estimated where the wreckage was! It was still so dark and foggy that the camera couldn't pick the gobbler up and focus. We had no idea where the hen went but on GN's call we started some soft talk to him and there he appeared in the fog, headed our way. He was really doing the dance... spitting and drumming and approaching the jake decoy in a serious mode. He got right up to the jake and sort of bluffed an attack on him and then backed away partially dropping out of strut. At that GN decided to end the show and shot him at 25 steps. GN continued his streak of big gobblers with one that had A 1.5 spur and one that is closer to 1.625 and an 11" beard.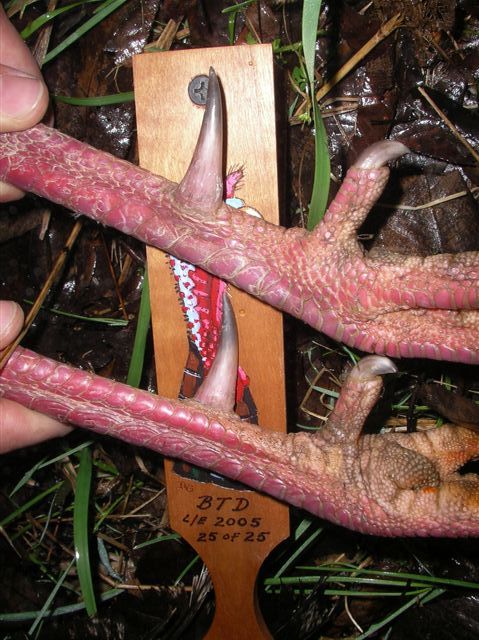 You can see the dead gobbler in the field to the right of the jake deke...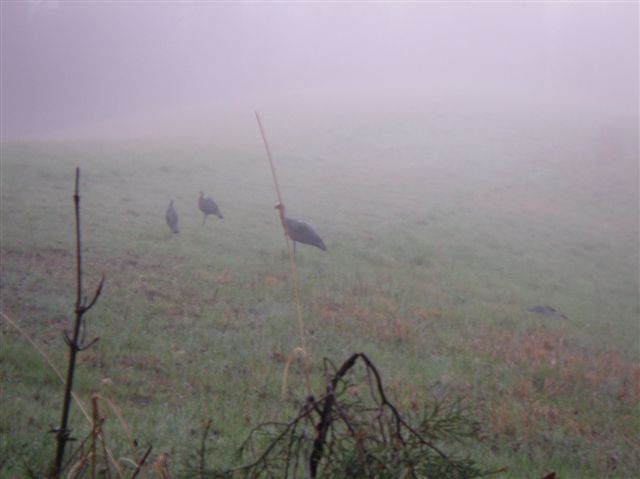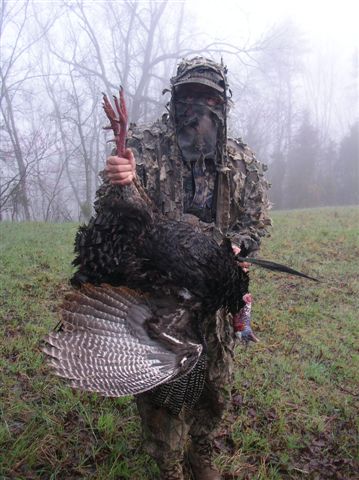 After the shot GN said to me "Wanna go buy your license or you want to go fishing?" Well, since it was 6:05 when GN pulled the trigger and we had basically 2 whole days to hunt I said "Sure!" After checking the bird locally, We headed out to the closest license vendor we could find and I purchased a 7-day license. We drove 20 miles to a new place, get back in the woods at 9:00 and we hadn't gone 100 yards toward the area we were going to prospect when GN spotted a smoke-phase hen dart through the cedars, busting our approach to the field where GN thought the birds might be. Sure enough as she ran over the hill she must have putted and several turkeys gobbled. We dropped down right there in the small cedar patch and I belly-crawled to an observation position under a cedar tree and around some large rocks. It was a terrible setup but we were pinned at that point. A little calling brought immediate responses but we could tell these birds were henned-up serious. Finally I got on my knees and spotted two groups of turkeys on the edge of the woods with the gobblers strutting and hens feeding all around them. They started working back towards the woods as it was getting hot in the open and I tried to move just a little closer to the edge, thinking one might slip back to get the "last hen". As I was slipping toward another cedar I spotted 2 hens really close and now I had birds on three sides of me and I was really pinned down. The next thing we hear are people on the left neighboring property shooting rapid fire at a 200 yards distance. We don't know if they heard us working the birds and were shooting to wreck our hunt or just target practice but the shooting made all the birds nervous and they quickly left the field. But they had not seen us. I got up and headed back to GN who was 30 yards behind me. I had just got back to him when another bird(s) gobbled no more than 80 yards away in the woods to the right on the edge of the field. Some of the birds must have just moved towards us in the woodline. I slipped back into position and started calling. The gobblers were cutting my calls off and I could then tell it was more than one gobbler still in the game. I was expecting them to come around the right edge but , after getting them to gobble again, I realized they were heading to my left. In these cedar thickets it is easy to get handcuffed if the gobbler takes a path you are not expecting. I had one shooting lane in front of me through the brush and cedars. I eased up to a standing position, as the cover was thick and I needed more height. Then I could now see the gobblers at 35-40 yards but it was too thick for a shot. No worries as they were working toward my lane. Then we heard a hen yelping to the left of the lane and I just needed her to keep yelping and pull the gobblers across... but what did she do but walk right to the gobblers and right through my opening leaving me no shot. The birds started heading back across the field away from us and I decided it was now or never and waited for one of the 4 strutters to separate. Now, remember that I only went to film so I didn't have my gun and was shooting GN's 10 gauge... with a red-dot scope. Not only have I not shot a turkey with a 10 gauge but I have never shot a turkey with a scoped shotgun either! However... GN said "Just put the red dot on his neck!" So that's what I did... He went down at the shot and as I rounded the cedar to get to him I noticed that one of the other gobblers had jumped on top of mine that was flopping. GN was coming with the camera and we got some pretty cool footage of this gobbler all worked up and gobbling right in our face. We started calling to him and doing some fighting purrs and he was riled up! My shot bird, in the meantime collapsed in a big mudhole! It was a great 2 year old gobbler but a muddy mess for a picture.! I had purchased my license less than 1 hour ago!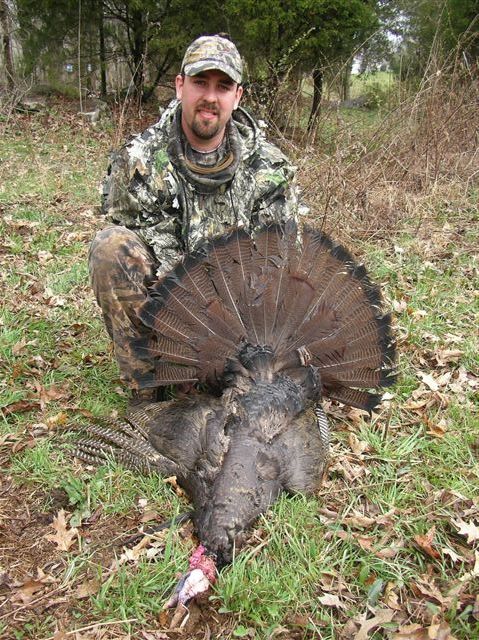 Here's a pic of the 1st mornings take…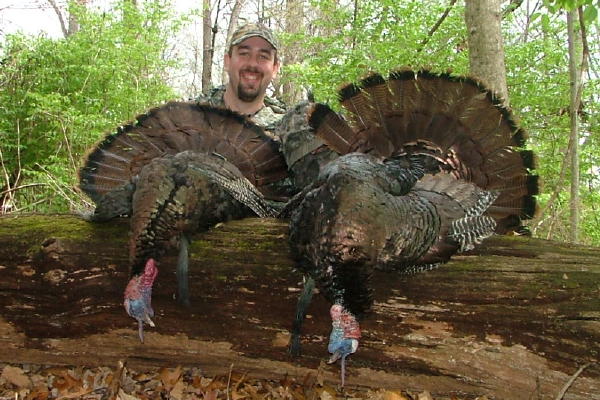 Second morning...

GN had another placed lined up for us to hit this morning and he felt there were a lot of birds in here as he had fooled with one gobbler and several jakes in here last year. Again, GN knew exactly where to be and we again put out 2 hens and jake decoy, built a nice little blind behind a log pile and setup to await daylight. Unlike the morning before we expected to hear some gobbling and boy did we ever! It was an incredible orchestra of gobbling this morning. There were so many turkeys gobbling you really couldn't count them and they were seriously trying to out-do each other. None were within 150 yards of us though, and hens were tree calling closer. We decided to sit it out where we were. Once fly-down came though the woods got fairly quiet. We did some calling and waiting and you would hear an occasional gobble from one of the birds on the ground. All of a sudden 2 birds gobbled 100 yards away just up the hill. They worked down to where we were but they seemed to be 2 year old, gobbled freely, but never went into strut and never would come in to range to challenge the jake decoy. They skirted our position and gobbled at everything before heading back up the mountain. We suspected they had their butts beat here before. It wasn't long before a hen started calling in the same direction the gobblers had went and we started calling to her and she started heading our way... with 2 big longbeards behind her! We saw them at 80 yards, strutting in the early morning full sun. The hen started feeding down along side this logging road heading right to the decoys and the 2 strutters were just hanging back following along. They were in the sun and really showing their stuff. Then a hen started yelping to our right And close and she came down to join the party. And GN says there is a gobbler right behind her, and a big gobbler showed up at 30 yards and I hadn't seen him because of the camera. I eased the camera on him, and told GN I was on him. He slipped around to our right and GN didn't want to shoot him in strut and then he got behind me and GN could not shoot. He strutted right in front of me for the rest of the episode at 20-30 yards. Meanwhile we now realized that the other 2 big gobblers were coming down the road and closing into gun range so GN eased the gun back on them, and I got the camera back in that direction. At 40 yards GN's 10 gauge barked and the gobbler hit the ground. It was one of the most beautiful hunts I've ever seen unfold and I would have had it all on video if I hadn't of gotten short on tape and then in the heat of the moment forgot to hit the record button! ARGH! You guys bash away, you can't beat me up any worse than I have myself. Anyway... GN and I will have that memory etched in our minds forever. What an outstanding hunt and another big, heavy, 3 year old gobbler.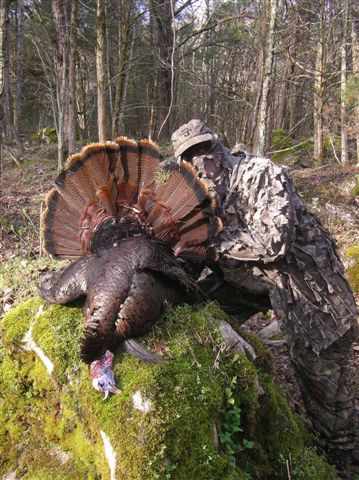 I was really beating myself over the video blunder and GN said "Everybody burns the biscuits sometime!" and he really tried to make me feel better. He said "Let's go kill you another bird and you will forget this." We headed out not wanting to pressure this place too much and GN said let's go check out another small place not far from there and see what's going on. We pulled in and when I opened the door a bird gobbled but he was across the highway and on another high ridge quite a ways away. We slipped up to a field edge setup where GN has fooled with a lot of turkeys and posted the strutting jake picture of a few jakes last year. We tried a couple crow calls with no response and just decided to just sit down on the field edge in an old fence line, now covered in small trees, and blind call for a few minutes. I started the jubilee slowly, but in five minutes I was getting a little aggressive, and we actually got three new birds fired up but they were well away from us an off the property. We kept calling and in five more minutes a bird gobbled below us and not that far away. We waited just a bit(GN says two minutes) and called again and he gobbled at 100 yards... his next gobble was 60 yards... and it wasn't long before we saw him slipping up through A pine and briar thicket. The only issue was a thick briar patch between him and us. We had one small open lane leading to us and hand to hand combat if he came through it. He stayed down in the open for just a bit spitting and drumming. I gave a few soft yelps and he finally broke and started to our left. I think he was actually heading up a deer trail and into the field edge.
I was hoping GN, who was filming for me, had an open look at him and when he got to about 20 yards I picked the best opening I had, gave a soft yelp to stop him and drop him out of strut, and took the shot. He went right down in the briar thicket! Another incredible hunt and another heavy 2 year old gobbler and GN got it all on tape!

Here's a pic of the 2nd mornings take…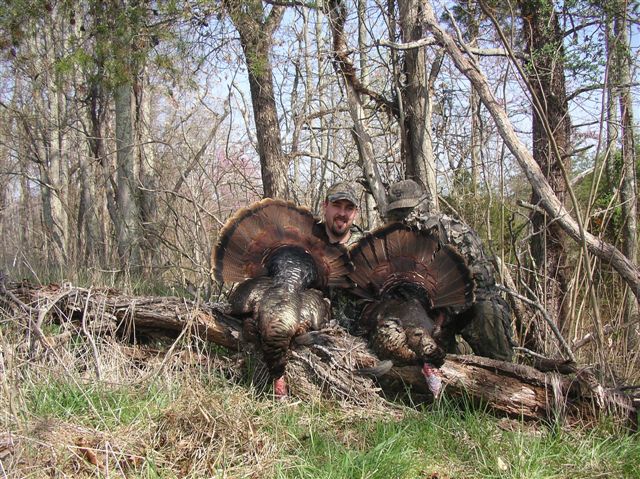 This is the first opener that GN or I can remember in East TN that we had decent weather. It showed in the behavior of the turkeys! We had an absolute blast! Thanks again to GN for another wonderful trip to TN!

April 9
Amy and I headed out opening morning to my usual spot to setup and see what the weather and gobbling would have in store for us. We didn't hear any gobbling right at first light with the wind and rain but after several calling sequences I pulled a gobble out from a henned-up gobbler. He answered us sporadically for the next hour and we finally heard some hens headed our way and I'm sure the gobbler in tow. As they were getting closer Amy spots a coyote slipping up the ridge heading right for the turkeys. To far to shoot the yote and obviously the gig was up with the turkeys. We did a bit of glassing and prospecting on the way out to no avail. We headed to another spot and arrived there about 9:00. No gobbling at all so we started a trek through the property. After completing a big circle and getting back to the vehicle I decided a few more calls for good measure. I yelp... and thought I heard a turkey gobble. I yelped again and was convinced I heard a turkey gobble. Amy wasn't convinced and thought I was hearing things but we closed the distance and I called again and he hammered right back... and there was 2 of them. We slipped around and setup on the edge of a pasture thinking they would come right around the edge and then into the field like we had seen them while scouting. To make a long story short, after we setup and called they gobbled readily and were closing the distance. Finally I spot the gobbler in full strut at 70 yards through the woods. The other gobbler is a jake. But... instead of coming right into the field and in front of Amy's gun the big gobbler started to circle to our right. I was able to track him with my gun but Amy would have had to shoot right by my head to shoot him so she told me to kill him if I could. He finally closed in to about 30 yards and I had a small opening to make the shot. I slouched down to shoot under a close limb and he spotted the movement but it was too late and the shot found it's mark at 10:35 AM. I was excited and disappointed at the same time... excited that we killed the turkey but disappointed that it came in where Amy couldn't get a shot. The gobbler was a nice big gobbler!

Here's a few pics...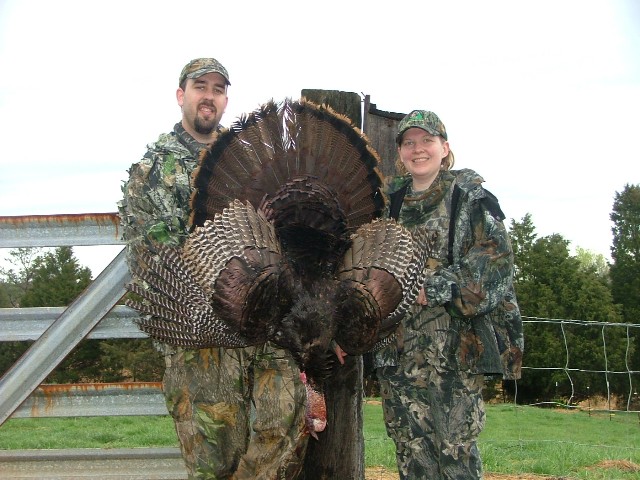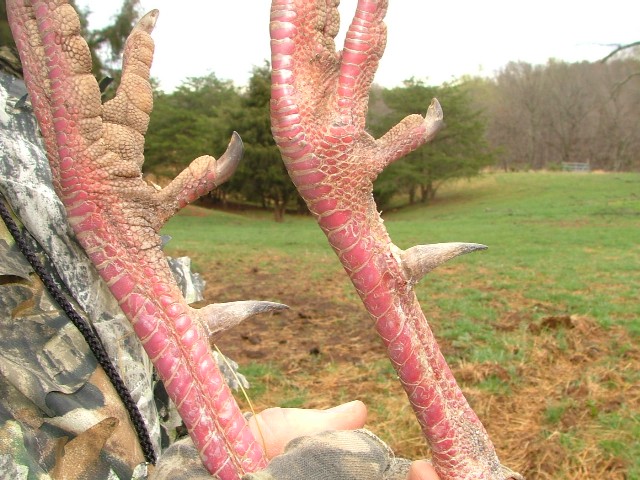 April 11
Here's GN report on his hunt with me on Monday April 10...
I drove up to hunt Monday am with Freddy in Virginia. We neither one like the weather that we were dealing with, as it was to be cold and maybe some wind. It was cold alright..rigth at freezing Monday when we left the truck and it got colder as dawn approached. Freddy had scouted these birds we were after. He thought there were four longbeards there ...they all gobbled, but they had dispersed a bit and the closest one was maybe 300 yards off on the limb. We did not call to them in the tree and by the time they hit the ground, we only got two of them to answer any kind of call. We stayed put though as it was very open woods and we didn't to want to spook hens or a non-gobbling bird by moving. Good idea as it turned out. Shortly after the birds got on the ground, one of the birds, the one directly behind us, seemed willing to answer calls, so we got turned around on the tree and set up facing his direction. We were filming with a video camera. The birds left the trees about 635 and by 7:15 this guy had closed from 300 yards to maybe 150. Then a couple of hens came in to us, as we were calling a bit aggressively...like non-stop. We were doing all the calling trying to keep warm, as it was really cold by that time. Neither of us had dressed heavily enough and we later heard some local temps were recorded at 27 about dawn. The hens liked what we were saying though and stuck around. One of them was actually nice enough to go get that gobbler behind us which was now at 100 yards , and she brought him back to the party we were throwing. Even nicer was that she kept in touch with us while she was on that mission...when we would cut , she would respond immediately and even though the gobbler did not gobble at every call we made, she sort of let us know they were still en route, even though they were out of sight over a slight rise. At 7:35, a hawk swooped straight down on the gobbler which we could still not see...but the scream from the hawk brought a triple gobble and we then knew he was barely out of sight and close...the hawk landed in a tree near the gobbler and the truth is that hen and hawk had pretty well done this poor fellow in, as it turned out...in about ten more steps we had the gun on him marching in full strut and in another couple steps , he went down at 35 yards. We tried to congratulate each other but were so cold we could not talk...we had to move around a little , get the circulation going, and drink a little water to get composed to even discuss the hunt...It really was that cold...beautiful bird...10 inch beard, 19 pounds, inch sharp spurs. One of the best hunts we have ever had. It was on the same tree where I had killed a bird with Freddy maybe 6 years ago. Except for this bird, we heard basically no other ground gobbling.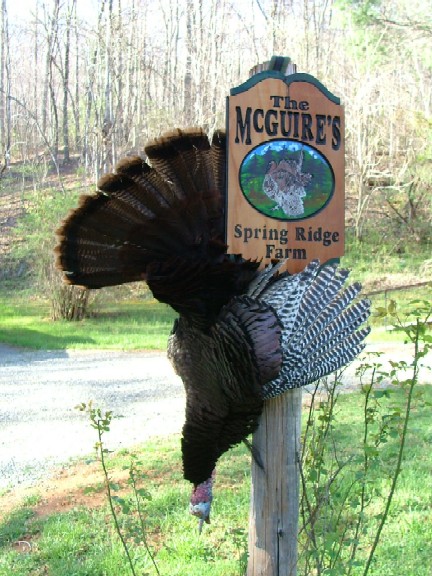 April 15
Shaggy and Joe (AKA: Thunderbolt) came down to hunt with me a couple days the end of the first week... I'll let Shaggy hit the high spots...
I had the privilege of hunting with Freddy late last week and, as expected, I had a fantastic trip. My buddy Joe and I arrived at Freddy's place Wednesday night and met up with both Freddy and Max. After the introductions and getting settled Freddy and Max began telling us about birds that they had roosted prior to our arrival, and, if that wasn't enough we sat around until midnight watching video's of some of their previous hunts. With 4:30 coming quickly we headed off to bed, however, I think I sat and watched the clock all night long due to being so pumped up.

Before I knew it, it was Thursday morning and we were eating breakfast and talking about how we were going to approach the roosted birds. After the strategy was finalized I headed to the top of the mountain with Freddy and Joe headed off with Max to another property not too far away.

By 5:30 Freddy and I were positioned above where we thought the gobbler was roosted and began listening intently for that first gobble of the morning. Surprisingly, the first bird we heard in the distance sounded off with two gobbles at around 5:45, which seemed a little early. Six am came and passed, however, by 6:10 or 6:15 we had heard two or three gobblers sounding off but again they were off in the distance. This is the part of the story where it gets good… Freddy whispers to me something like "if he wants to play tough, we'll get tough" referring to the fact that the bird that we were after had not gobbled to that point. A few seconds later, Freddy proceeds to do some excited calling with two fly down sequences that sent shivers up and down my spine. We'll that's all it took, the bird we were after gobbled back right away, however, he was further away than what we expected. After a minute or two Freddy made another series of excited calls and the gobbler called back from the same position, however, this time it sounded like he was on the ground. The next time Freddy called the bird answered closer and that's when we knew the bird was committed.

The bird gobbled a few more times on it's way in until it was just over the rise from where we were. Freddy had us setup so that once the bird appeared it would be in shotgun range, which was one of the many things I learned while hunting with him. Finally, Freddy starts saying "watch for the fan, watch for the fan" then he starts saying, "I see the fan, I see the fan." A second or two later the gobbler moves a step or two to the right and I was then able to see him as well coming over the rise in full strut. Of course at this point I was shaking like crazy (which Freddy commented on afterwards) and I was waiting for the gobbler to clear a few small branches before I could shoot. In no time at all the bird made his way another 5-7 yards to the right and at that point all I saw was the big white head facing me at 30-35 yds so I squeezed the trigger took the shot. In the first split second (which seemed forever) I thought I might have missed since the bird didn't seem to react, however, he was on his way over backwards and he was down for the count with very little flapping. I ran down to the bird and was joined by Freddy who laughed a little since I hadn't given him time to even drop the bird out of strut (call it a rookie mistake) and by 6:45 were sitting on the side of the mountain recounting the hunt and taking pictures.

It was truly an awesome hunt as that was only my second longbeard (third turkey). As it turns out, my buddy Joe who was hunting with Max ended up having 4 birds come strutting into him later in the day. He took a shot one of them as they turned to move away, however, it was a little too far and he ran out of gun. He did end up scoring on day two with Freddy and I'm hopping to get him to join the forum to tell the story himself.

I was also able to meet and spend some time with Hody while I was there and had a great time with him as well. All three of those guys, Freddy, Max, and Hody, are definitely class acts and my only regret is that I live to far away to interact with them on a regular basis. It was a great hunt and we had a lot of great fellowship and I really feel like I went away with some new friends.

Oh yeah... I amost forgot. The bird was 21.75 lbs, had a 9.75 inch beard and had 7/8 inch spurs. Joe's bird was around 18 lbs, had a 9.5 inch beard and 3/4 inch spurs.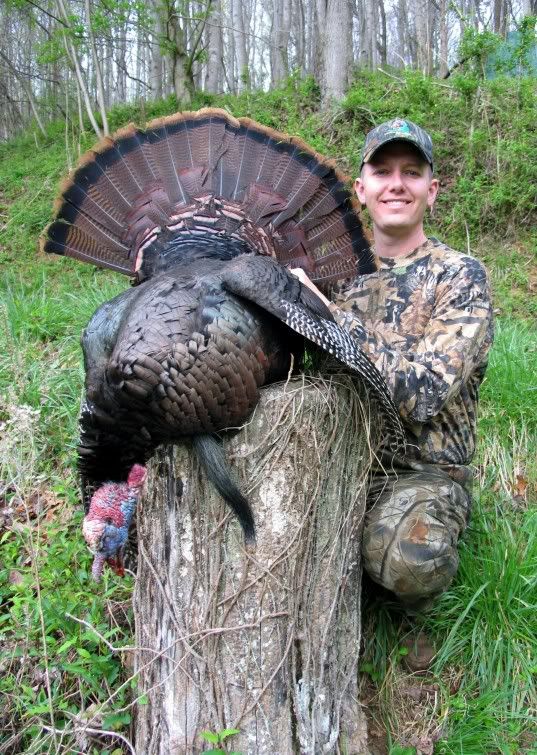 April 17
Amy and I were able to get out again on Monday AM. Amy with the details...
Monday morning was my next day to hunt with Freddy. The weather forecast was just as I expected for my hunt...RAIN. It rained on us opening day and the forecast called for rain today. We were hoping to catch a break in the weather and it looked like we might get a chance...the storm was moving slower and might give us decent weather for an extra hour or so. We walked across the pasture fields and went up to a patch of woods and "just listened" for a little while. One gobbler sounded off on our right and then about 4-5 sounded off in our patch of woods. At this same time the thunderstorms were starting to roll in and there was some far away lightening and thunder. The turkeys went crazy! We heard between 8-9 turkeys gobbling at the thunder. We decided to set up in the patch of woods just off an old roadbed. Freddy sat behind me about 5 yards with the camera in tow, I wouldn't let him carry his shotgun on this trip. We listened to the woods wake up and the gobblers try to keep time with the thunder. We were shocked to hear one of the birds already on the ground. He walked up the hollow in front of us, gobbling his head off at the soft calls from the Green Reaper. Then 3 of his buddies came up and joined up with him at the top of the hollow...they had decided that he was going to do the strutting and the other 3 could just gobble. When they popped up from the hollow they were out of range and were headed to the field. Freddy and I had both done a 180 at the base of our trees trying to keep up with these guys. Just then it started to rain... and surprisingly, all 4 birds decided they liked the woods better at this point and came back to our calling. They all came within about 35-40 yards and I walloped the last bird at 40 yards.

18 pounds
10½" beard
7/8" spurs

This was an awesome hunt and at least the thunder/lightning stayed in the distance this morning! I love being in the woods with my husband and ladies you should give it a try...it's great!

Amy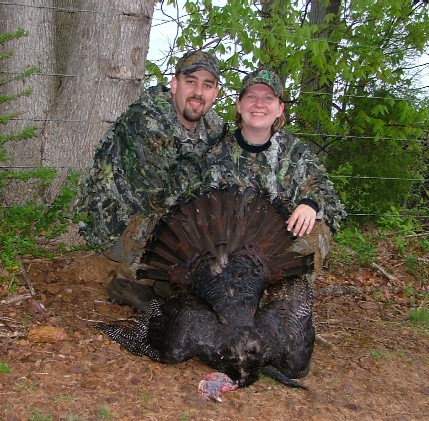 Tuesday AM Hody, Dixie and I got on some gobbling birds but the hens won the battle this time. My brother and I hunted Wednesday and we had a bird coming in down a logging road and an untimely shift let him know something was up and it was Game Over for this morning.
April 20
Had another friend down for the next couple days and we got the hunt off to a good start...
A landowner has been seeing a gobbler or two in a field near his house every morning and evening for a week. I went in and roosted him last night and we setup on them early this AM. Heard a few birds gobbling but there were hens all over us. Had a hen come by the dekes early and into the field but the big bunch was dragging behind in the woods. They were still yelping and gobbling, but not making much progress towards us. I finally tried a few aggressive calls after the gobbling had slowed and got an immediate response. I poured it on some more and he gobbled back pretty hard and evidentially broke away from the main flock and strutted and gobbled right up an old road bed to us. He made the shot at about 30 yards as he was checking out a possum that was checking out our dekes from about 5 feet! His girlfriend was there and got to watch the show as well... the hunter's girlfriend, not the turkeys! ;o)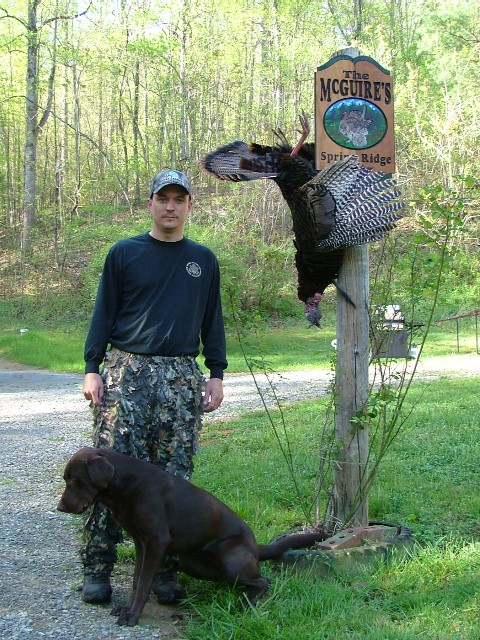 Wow... I've really fallen behind in my updates...
April 21
Same friend was in again this AM. Hunted a bird this AM that has gobbled sporadically during the season but I was able to roost him yesterday afternoon. We slipped in early and setup on the edge of a field 100 yards from where he was roosted. Long story short... he flew down to us but over our head and landed behind us. He slipped right in to us on the right at 20 yards and being a right hand shooter he couldn't get his gun around on him. He finally got started around but the bird knew something was up and headed out of sight giving us a courtesy gobble on the way.
April 22
Same friend and it was pouring rain... we actually heard a couple birds gobble in the rain on the roost but nothing on the ground. We managed to call in a hen real close and that was a joy to watch.
April 24
Amy and I headed out this AM with her toting the camera and me the gun. We didn't hear any gobbling at daylight but after moving a hundred yards or so we struck a bird(s). They answered my first set of yelps and second set of yelps were closer. My next several series of calls were unanswered and I had my gun at the ready facing a logging road where I thought the birds would approach... Nope! 5 minutes passes without another gobbler when I catch movement from my 10 o'clock. It's 3 longbeards heading my way at 40 yards. With 3 sets of eyes I couldn't get them all behind an object and starting swinging slowly. I was busted and the lead bird walked directly away. The 2nd bird turned to my right and started walking that way... I had an opening and unfortunately he crossed the opening quicker than I anticipated and my shot went through nothing but thin air and the hole where his head was .5 second earlier! A fun hunt... a little disappointing but no big deal.
April 27
This was the beginning of the inner-ear infection week. I heard a bird gobble a few times from the house that evening and decided since I had to be at work early that I would go after him real quick. He was roosted next to a small field and I was unable to get any closer. He gobbled fairly well and I saw him fly down and follow a hen into the field. I was able to make an approach to the field and into shotgun range of the gobbler but didn't want to take him that way. I haven't heard him in there since... figures!
April 29
As some of you know I've been suffering from an inner-ear infection and last week was really a struggle with keeping my balance. I've seen the Dr. and got some medication but can still feel the effects of the infection.

Anyway… I was feeling pretty crummy and didn't even think I would be able to hunt but got up early enough and decided that I would be okay just going somewhere that I didn't have to walk far and would be easy to get in and out of. This would be the first hunt by myself this season and the first time I've hunted a Saturday by myself in YEARS.

Amy and I had seen a gobbler using a field several times this season and I decided that since it was easy to get to I would just go there, put out a couple dekes, build a "nest", and hang out for the morning. Just as I got situated where I wanted to be a bird gobbled directly across the field from me on the neighbors property that I can't hunt. He gobbled fairly well and I refused to give him any roost talk for a while. Finally, when I thought it was good and light I did a couple fly downs with just the wings and waited. He gobbled several more times on his own after that. After I felt he was on the ground (he quit gobbling) I threw out a few soft yelps and some clucks and purrs. No response, but I felt this bird had been hunted pretty hard by the neighbors this season so I didn't want to over-do it.

It wasn't long and I spotted his big white noggin' over the hill and angling somewhat my way. He had an apprentice jake with him and they started my way. The jake was feeding but the big gobbler had his eye on my jake and hen decoy. He started angling to my left almost away from the dekes and I thought he was headed in the woods. I gave him a couple soft clucks, purrs, and a little yelp and he gobbled right back at it. He then went out of site behind some brush on the edge of the field and by the way he acted I thought he was going in the woods. I shifted the gun and camera around where I thought he was headed and got ready. In just a minute I saw his white head again at 30 yards, but it was back in the field and 45 degrees to my right. I was able to shift the camera back on him and then shift my gun over on him to make the shot. What a fun hunt, but my all day, all alone Saturday hunt ended at 6:45 AM.

He was a nice 2 year old gobbler with a rio grande-like tail fan which, by the way, had several feathers that had been shot out from what I could tell.

I managed to gather all my gear and stagger my way back to the truck… with an extra 20 pounds over my shoulder! I didn't mind the walk at all…

Here's a still pic of him pulled off the video right before… well, you know…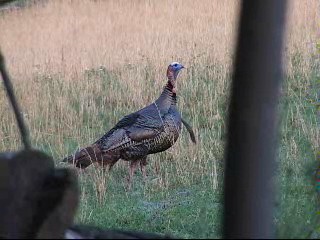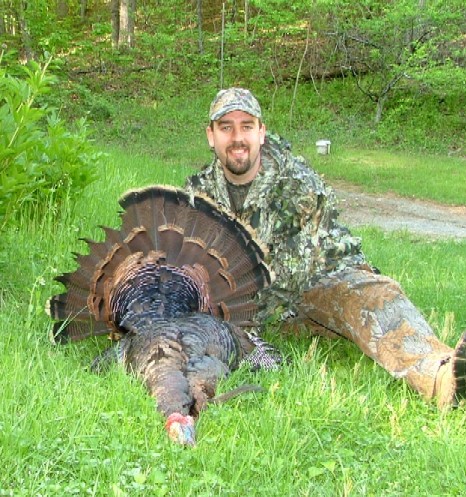 May 3
Had another friend in for a couple days and we got on a few birds the first couple morning but didn't really get anything in close enough to create too much excitement. The last morning however we had roosted a bird and were within 50 yards of him the next morning. He gobbled well and flew down just under the hill. After some little soft calling he worked his way up the hill but to my buddies left. He had gotten himself in a bit of a bind by not getting shifted around the tree and when the gobbler came up 25 yards away he tried to shift his gun a bit and the bird spotted him, putted, and left. It was over and he was pretty disappointed. I told him to keep his head up and we'd go find another one. We had heard 2 other birds gobbling well from our first setup and we headed that way. I set him up in front of me and I backed off to start working them. Shortly I had them coming our way and then I could see the white heads bobbing our way... and they were coming hard! All of a sudden he shot and I knew immediately they were too far. Both birds flew off and he was really disappointed at this point. Nothing I could say to make him feel better now. He had just gotten caught up in the moment and shot too soon.
May 6
I headed out with Robbie on Saturday and we heard several birds roost gobbling but was only able to get on 1 bird that gobbled on the ground more than a few minutes. He was across a hollow and we were unable to approach him any closer. He finally lost interest and headed off the property. We called it quits about 8:30 because of some other things going on...
May 9
Had another friend in for a couple days and the first morning was wet and nasty and we heard one bird gobble one time. Saw a lot of hens and a couple jakes. That evening I roosted a gobbler and we headed in after him the next morning. It was a perfect setup and the bird was gobbling great. We were 80 yards away and after some "tricky" calling we heard him spitting and drumming just over the rise. Shortly his fan crested the hill and he strutted into view. He cleared a couple trees at 25 yards and i told my buddy to "kill him!" and then I told him again... and again... and again... but he was froze and never pulled the trigger. The bird turned and walked right back the way he came and it was over. After everything calmed down he was really upset about not pulling the trigger. It was certainly a most unusual experience for me... most of the time you just have to tell people "kill him!" once...
We headed for another farm and struck a couple gobblers across the lake. Nothing was going on our side so we setup on the lake edge and I proceeded to work the birds hoping they might would fly over. After a few minutes of conversation a hen joined the fray and in just a while she flew the 200 yards across the water to us and I was hoping the gobblers would follow... they didn't and we called it quits after a couple hours.
Stats to date from my 2006 Spring Gobbler Survey :
73 gobbling turkeys (some are the same turkeys on different days)
26 longbeards called into shotgun range
7 longbeards killed and 2 misses
I hope to add to the totals over the last couple days...