February 15
I know, I know... I'm early getting this started this year! Why? We are headed to Florida in about 2 weeks!
This season I will be hunting in Florida, South Carolina, Tennessee, Virginia, & West Virginia. I will be making entries to my diary sporadically until the season opens, giving some information on scouting trips, listening trips, and sightings of birds. Once the season begins, unless I am out of town, I will try to make daily updates. I am going to try this year to provide some updates as hunts progress, reporting in every night after the days hunts. We'll see how that goes! I will not use real names or real places in my diary, other than my own name, to protect the innocent. :o) I hope this diary will be entertainment for some of you and maybe someone can even learn something. Entries to the diary will probably pickup once the season starts. I will start to give my gobbling reports and my thoughts on what the birds are doing. If anyone has any questions or comments please email me!
I look forward to sharing this season with you...
March 7
Florida hunt was a disappointment... we ended up not really having any land to hunt. After a day and a half we headed back to VA. For a hunt to have gone south Max, HODY, Longbeard Magnet and myself had a pretty good time. It was a long drive but we made the best out of a tough situation.
March 21
South Carolina Low Country... Great times in the south!

I headed down to hook up with Diablo and our good friends in South Carolina on Thursday afternoon. The weather had been terrible earlier in the week and it was even drizzling rain when I arrived. They had managed to take a gobbler on opening afternoon and another gobbler Thursday morning but the gobbling and activity was pretty slow.

Friday morning it was very cool (39 degrees) and overcast but our spirits were pretty high. Diablo, Brady and myself headed to a spot that had been hunted a little earlier in the week and my owl hoots were greeted by a gobbler in the swamp just south of us. We slipped in as close as we could and setup. Diablo's calls were answered pretty eagerly by the gobbler in the swamp and finally we saw him appear in the field at about 150 yards. He was strutting his stuff for the hens we knew were close by. Sure enough, in just a minute, the hen appeared and just fed along for a while. The gobbler answered some of our calls but it was obvious where his attention was located. The hen headed back in the woods with gobbler in tow. Another bird had gobbled fairly close to these birds a time or two and we thought we might could get one or the other away from the hen. Finally the gobbler came back into the field and started our waY! After closing to about 100 yards he started displaying towards the woods edge again and then we realized the hen was just inside the woods. As the gobbler kept coming and answering I told Diablo and Brady "The feeling I have right now is why I do this!". It was exciting but it was not to be. The hen led the gobbler back into the woods once they were about 80 yards out and it was all but over. We did get the gobblers fired up again in the swamp but couldn't do a thing with them and eventually the gobbling stopped and we headed out for a breakfast of shrimp and grits!

After breakfast Diablo and I headed out to setup a blind for a hunt later in the afternoon hunt for Brady and his two sons. After setting the blind we trolled around in super stealth mode and finally setup in a likely spot and called in to about 50 yards a couple of jakes and another unidentified turkey. Meeting back up with Brady about 3:00 we headed to the blinds with Daniel (aka Bones) and Kyle (aka Slim Jim) for the afternoon hunt on a field edge they had been seeing a lot of turkey activity in. The hunt was uneventful for a while, but Danial, Brady, and I kept each other occupied with stories and such in one blind while Diablo and Kyle were sitting in the other blind about 35 yards away. Later in the afternoon some hens started filtering into the field and finally we had 10 hens right in front of our blinds and were anxiously awaiting the arrival of the gobbler we knew had to be close by. After a while and dark closing in the hens faded off to roost and the gobblers never showed. We had a good time though and I enjoyed spending time with Kyle and Daniel. They are great kids and a joy to be around. I know they will have plenty of gobblers in their future! While sitting in the blinds we all heard a shot and Brady said "That was Ken's big 10 guage!" When we arrived back at camp sure enough, there was Ken with a beautiful gobbler hanging in the tree. The big bird had followed a large contingent of hens in front of Ken's big gun and he sent him to take a dirt nap! The coloration of this turkey was one of the prettiest I have ever seen for an Eastern.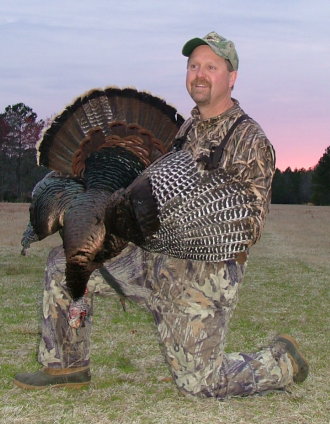 We had a big meal that night and some great fellowship and went to sleep anxious for tomorrow.

Ken was taking Diablo and I to his deer lease for the next mornings hunt and after walking in to a good listening point Diablo got a bird to gobble at his owl hoots. (See, Jeff can hoot too!) We had the general direction and took off along a clear-cut and then through a swamp. We came to the property line and could go no further. The bird was still a couple hundred yards across a broomstraw and mixed pine field and we were contemplating what to do and what the terrain was like. Diablo checked him with a call and he immediatly gobbled so we knew he was interested. After talking a little more about the property lines, access to where he was from another direction, etc. Diablo checked him again to better pinpoint him and he answered right back again from the same place. We were fairly undecided about the best approach and then Jeff said "Okay, after this call we are going to make a decision!" The yelp wasn't out of his mouth good when the bird gobbled 50-60 yards away right in the field. We all hit the ground like we had been shot and were basically waiting for him to stroll right up in our lap but he didn't. We were pinned down with no trees to setup on and were basically laying in the logging road. Diablo watched him cross the road above us and go into a mature stand of planted pines and commenced to gobbling a strutting for the unseen hen he knew was there. After fooling with the turkey for a little bit we realized he was a smart old cogger and it was going to take some doing to get him in our lap. Finally, after toneing down the calls and pulling a few tricks out he started working towards us... right through a thicket! He was in shotgun range for Ken and I but we couldn't see him. I caught a glimpse of him a time or two but it was nowhere near clear enough for a shot. After standing there gobbling and spitting and drumming for what seemed like an eternity he started walking again from right to left and finally I cuaght a better glimpse of him slipping through the woods. He was a cautious turkey, never going into full strut and taking only a step or two and watching forever before making another move. I thought to myself and Diablo had the same thought... "Big, Old, Sharp Spurred Gobbler!" He was good shotgun range now and I had a decent lane to shoot through and he stepped into it and I had about the top 12 inches of his head to shoot at and took it. The bird flipped over backwards and wings went over but he managed to get back up and tried to fly for a little ways but another shot anchored down and Diablo made the tackle! After reliving the hunt and standing over the bird Diablo noticed a golfball sized sapling that had been shot in half and it was very fresh. We put 2 and 2 together and figured that the gobbler had already been shot at in that spot earlier. No wonder he was very cautious and our "Big, Old, Sharp Spurred Gobbler!" turned out to be a super wary and super cautious 2-year old! I was a happy camper and Diablo and Ken had smiles as big as mine. It was a GREAT hunt and a TON of fun!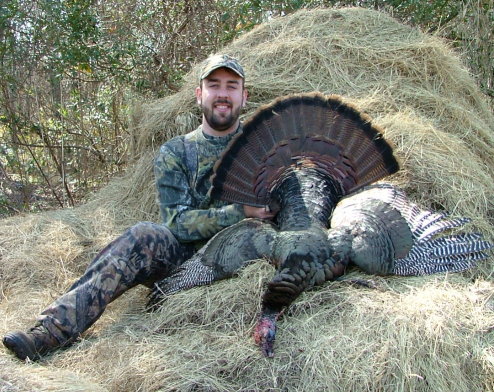 We prospected for the rest of the morning and then did a long sit that afternoon on a field edge but nothing was happening. We heard a bird gobble a couple times later in the afternoon down in the swamp.

After another great supper we watched some basketball and hit the hay.

The next morning Diablo and I were setup on the same field edge and Ken was in another field several hundred yards away. The birds started gobbling and we heard about 7 or 8 gobblers that gobbled for about 30 minutes and then it was over. Ken had a gobbler come out to the field edge and needed to take just another step or two for a clear shot but he faded back into the woods. As we were leaving the bird gobbled again several times so we headed back to setup on him but he wasn't interested and faded back into the swamp and we headed home.

I had a great trip to SC again! We had some great hunts, some great food, and best of all got to see some great friends. I want to thank Brady, "Slim Jim", "Bones", Ken, "Saul", & Diablo for everything. Turkey hunting has a way of taking people from different places and backgrounds and bringing them together. The Tenth Legion continues...

Diablo and Ken with the birds taken that week...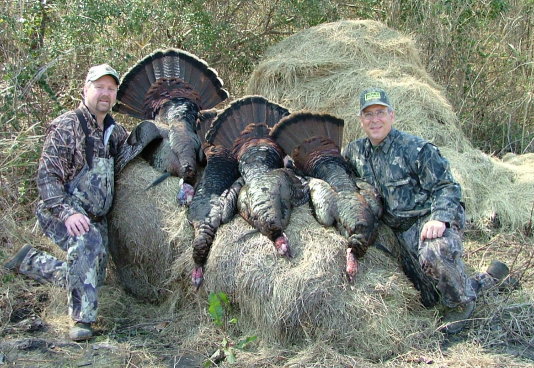 March 23
Birds seem to be getting started around here... I think a little later than normal. I'm sure they are gobbling some and with some warmer mornings on the way I'll be out there. Probably start listening every morning from here on out if the weather cooperates. Here are a couple pictures I took yesterday...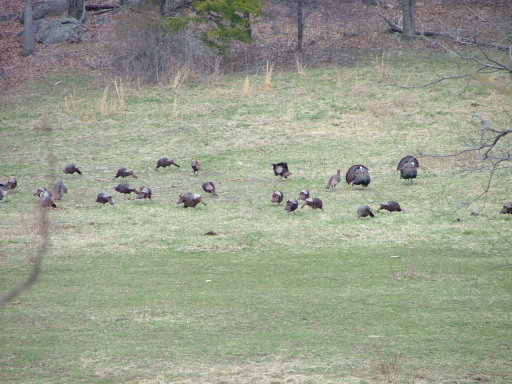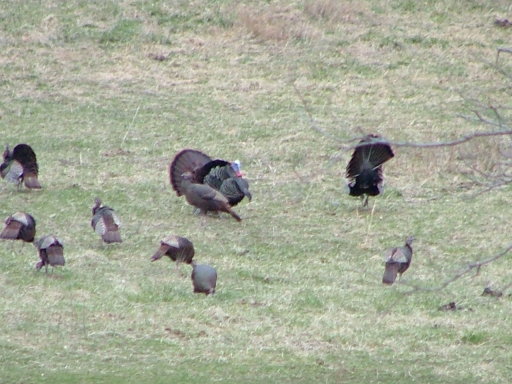 April 6
SC/TN Adventure... More pics coming soon!
After working a few days in SW Virginia Amy, Abby, and I headed to SC to hunt the opener down there with Diablo and his family. As expected when I travel to hunt the forecast included a lot of rain. I was going to hunt opening day and Amy was going to stay at Diablo's house to help Abby get adjusted to her surroundings.
Daylight found us in the light rain in a pop-up blind on a field edge that has produced turkeys in the past. On some advice we had a Buckwing Bobble-Head hen decoy setup 20 yards away. The morning was pretty slow but we had a bird answer us a couple times so decided to sit tight and let things develop. Later in the AM we had a hen work by the blind at about 35-40 yards and was hoping a gobbler was nearby. Sure enough, just a moment later the big boy appeared in strut on the horizon. Diablo called some and he started marching our way. When he got within sight of the decoy is started going bad. He spotted the fake and blew back into strut. We knew then it wasn't good. Sure enough, after 20 minutes he had worn out a rut in the field at 50 yards but would come no closer. He gobbled a time or two then turned and sauntered off into the mist. The rest of the morning was pretty uneventful except for a few sightings of hens and jakes in the distance on the way out. My review on a scale of 1 to 10 of the Buckwing Bobble-Head Hen at that point was about -57.
That afternoon I headed to TN to meet with GN and hunt the first two days down there. GN had done some scouting and had a good idea where a bird was using. At daylight, we were setup on a field edge with a hen and jake decoy out. At daylight the bird started gobbling but in a slightly different place than we had hoped. After hearing several hens we started calling a fair amount to him and then we spotted him following the hens out in the pasture. The circled around a small point of woods and we got him to gobble again closer. To make a long story short we fooled with this longbeard for 2 hours and 40 minutes and had him at 50-60 yards several times. Finally, we let him drift off again and I tried to slip down to where he had been strutting. He was there and I probably could have bushwacked him when he was behind a contour in the hill. The hens were further out in the field and not coming back but we managed to hold him in our court for a while before the hens got too far away. Oh, by the way, the whole time it was raining. The bird gobbled at everything and we could hear him drumming almost constantly. It was a great hunt but no turkey. We hunted the rest of the day in the cold with no other action and was hoping for better results Sunday. Sunday morning was terrible with a cold wind blowing about 30 MPH. We were never really in the game and later that afternoon I headed back to SC. Here is a pic from my TN hunt…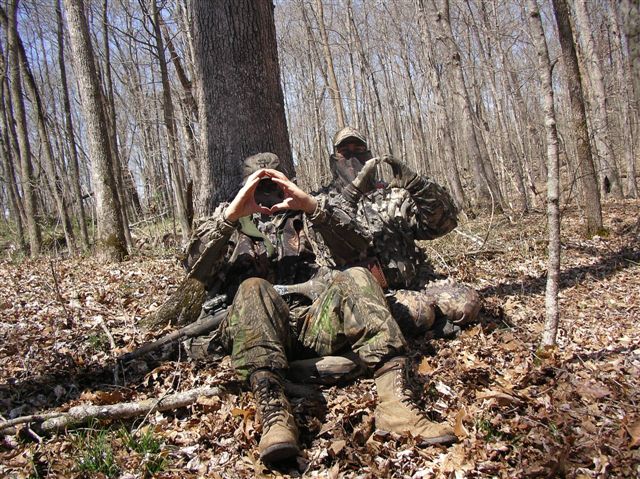 Amy and Diablo hunted in the strong wind Saturday with no luck either so, thanks to Diablo's wife watching Abby, we all headed out Monday AM. After hearing a couple birds gobbling at daylight a fair distance we decided to move that direction about 8:00. The birds really weren't gobbling at all so we setup and tried some blind calling to no avail. We got up and started through a patch of woods to another field corner with Diablo and I doing some "flock talk" with Diablo leading the way and me 50 yards behind, and Amy "scratching" in the leaves. We got to the field corner and was deciding what to do next when Amy said "CRAP! Turkeys!" (or something to that effect) and I turned my head to the field and saw 2 gobblers running at us. I told Amy to hit the deck and lay the gun in my lap as I was flat on my back. We didn't have any cover around us, but Jeff managed to back up against a small tree with a cedar for cover. The gobblers kept coming and Diablo told Amy she could shoot whenever. I had my head turned so I couldn't see the approaching turkeys but I saw Amy adjust her gun, take off the safety, and squeeze the trigger. She made a great shot and the SC longbeard was toast! At the shot over 20 other turkeys flew away. Unusual to see such a big flock of turkeys. My attempt to take the other gobbler was, let's just say, unsuccessful. Here are some pics of Amy's gobbler and the setup…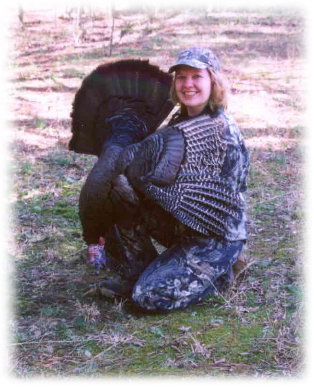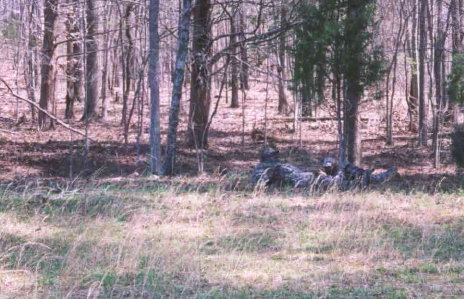 The next AM Diablo and I were back for a last morning hunt. At daylight we heard a couple birds but they gobbled very little. We decided to move into a creek bottom area and setup for a while. After a couple setups we sat down and shortly after I heard something in the leaves. Sure enough a moment later a red head pops up about 70-80 yards out! After checking out the situation for what seemed like forever he started coming and I realized it was a jake. Several more turkey started coming our way as well so I thought there might be a longbeard in the bunch. With Diablo scratching in the leaves, the turkeys closed in on us. 5 hens and 4 jakes. They came to within about 12 yards of us and I could see no longbeards in the bunch. One hen pitched up on a fallen limb about 3' feet off the ground to get a better look but they never became alarmed. All of a sudden the lead jake turned and I could see he had beards sticking out everywhere. Diablo is saying "Shoot him if you want, shoot him if you want, do whatever you want" but I was now out of position for shot and carefully slid my safety back on just to enjoy the show. There was no way I could ever swing my gun now as the turkeys were literally in our lap. They all started to fade away down the hill and finally all the turkeys were out of sight. I looked back to where the multiple bearded jake went and I saw him walk through and opening. I told Diablo I was going to swing on him and see if I could get a shot. I shifted around, up on my knees, and spotted the gobblers head through a hole in the brush. I carefully aimed and squeezed the trigger. At the shot, nothing really happened, no flopping, no putting, no flying. I got up and eased that direction and spotted the gobbler laying the leaves! Diablo and I slipped down to claim him and then counted his beards… all 4 of them. I wasn't going to shoot a jake, but a combination of the exciting hunt, the unique turkey, and the last morning of the hunt I was glad I did. We named him "Quatro" post-mortem because of his 4 beards.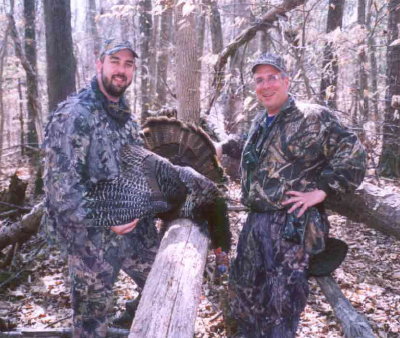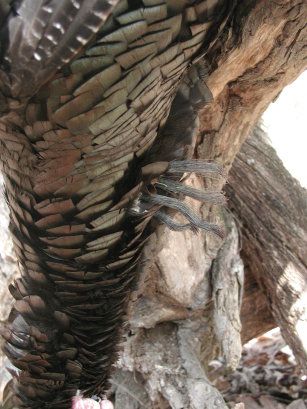 We headed back to Diablo's house and packed the car for the ride home. We had a great time and hunted in some terrible conditions but still had fun. We want to thank GN, Diablo and his family, and especially his wife for watching Abby, so Amy could get out and hunt. Thanks again for everything!
April 9
Amy and I headed out to a spot this AM that I had been seeing a gobbler using in the mornings. Yesterday afternoon I watched him and some hens go to roost. This morning we got setup early in the area he had been strutting a waited. He gobbled a time or two from the roost but it was a slow gobbling morning. Finally, I got a hen to answer my plaintive yelps and they started into the field followed by the big gobbler in full strut. The hens came right to us but unfortunately they were behind us. Amy couldn't get around the tree so I was going to have to do the shooting. The hens closed in and I was able to get turned far enough around for a shot. When the gobbler was about 35 yards out a close hen gave a soft alarm putt and I knew it was time to end the show. He dropped out of strut just enough for a shot and down he went! A beautiful 3 year old gobbler and Amy was there to share it with me.

We got my turkey and headed to another spot and immediately got on 2 gobbling turkeys with some hens and jakes. Amy got setup and I backed away calling to the gobblers and trying to simulate several turkeys feeding on a hillside. Sure enough, the gobblers broke away and started towards us but headed to the left. Amy was adjusting her gun as they approached and once they got within range she had one minor move to make to get a steady rest. That minor move was spotted and the dreaded alarm putt followed. The birds were in range but started walking away quickly. Amy had one opening to shoot through but the shot and the gobbler didn't meet there. Bummer! Amy handled it well and we headed off in search of another volunteer but it was not to be on this day.

We got to share 2 great hunts and spent some nice time together. Like to thank Maw-Maw for watching Abby so we could hunt. We'll be after them again!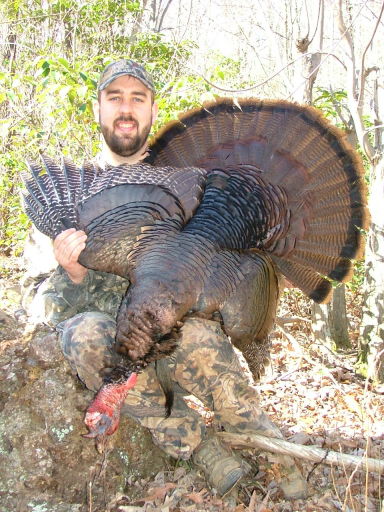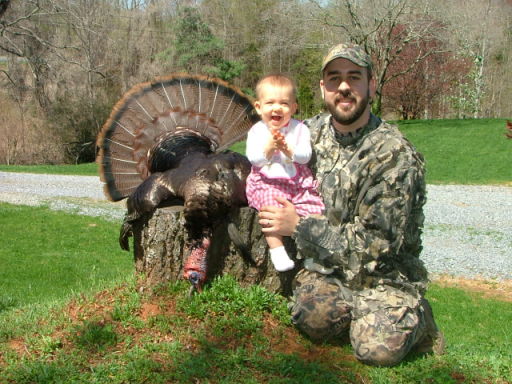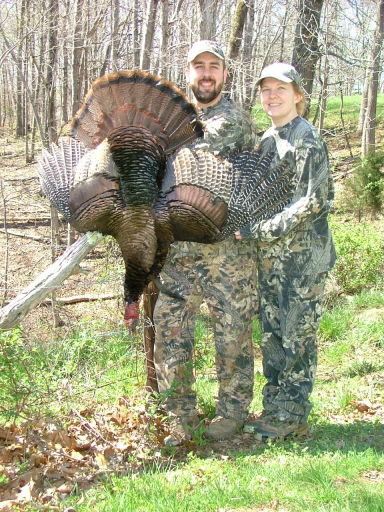 April 11
Sunday night, Freddy and I both roosted birds for me to hunt on Monday. He roosted them from the neighboring ridge and I heard them from the front porch. They were gobbling on what we call Squirrel Ridge on our family farm.

We got setup Monday morning and heard a bird to our right spitting in the tree. Once it got light we were able to see the turkey in a tree about 70 yards to our right, spitting and half strutting…pretty much right on top of us. Once gobbling began we heard a turkey behind us about 100 yards and this turkey to our right. They gobbled back and forth to each other all morning. Finally the bird behind us flew down and started our way. When the turkey that was still in the tree to our right saw this bird, he flew down to meet him. The bird behind us gobbled right in our back pocket and then came up out of the logging road right on top of us. He knew that we didn't look right up against that tree and started a soft alarm putt. He was still interested in meeting the gobbler that we had watched all morning in the tree. I started trying to get around on the gobbler that came in from behind us and rushed the shot and didn't get my head down on the stock and shot over the turkey. The only thing I have to show for this bird is a couple of educated birds.

The gobbler that was in the tree to our right flew back into the same roost tree after I shot. He finally started answering Freddy's soft yelps but some hens on the next ridge won out. He flew down the creek and went to find the hens. The gobbler that I shot at started gobbling again and was answering us. He was coming around the ridge to our calls but evidently saw the hens on the next ridge and went over to be with them.

We got up from this setup and went to the neighboring ridge to set back up and see if we can call the birds in. We got setup and a turkey answered us from down in the hollow. We were right over the edge of an old logging road and decided to make a quick but stealthy move and get into a better position on these birds. We made a couple of calls from our new setup and the turkey answered us about 100 yards down the ridge. After a couple of soft yelps and another gobble I saw the 2 turkeys coming up over the ridge. I told Freddy that I saw them and he told me to take the shot whenever I had an opportunity. He didn't have to say it twice because I was already on the bird and was repeating in my head…line up the sights, head down, and squeeze the trigger. It all worked out and I harvested an awesome "Super Jake". He came in gobbling and acted like the big bird he almost was. He was 15 lbs. 5 oz.; had a 6 inch beard and a 3 inch beard, and 1/2" spurs.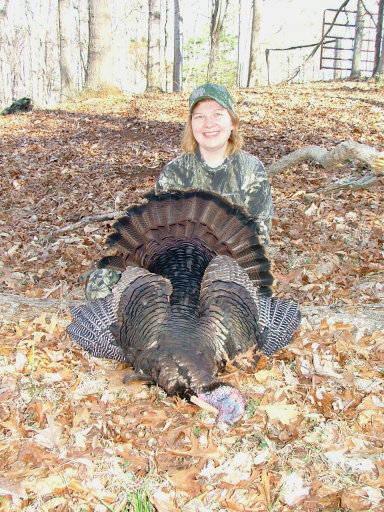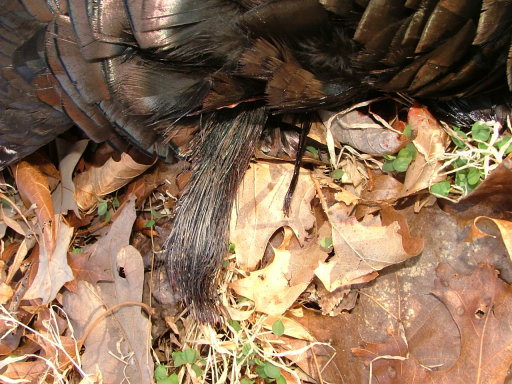 April 12 - Pa-Pa's Gobbler
As the black turned to slate grey and the trees started taking shape I couldn't help but reflect on past hunts on Pa-Pa's mountain. The first ever spring hunting trip up here resulted in a nice gobbler and many more after that. Since we bought the place a couple years ago it seemed that all the gobblers had left with Pa-Pa. This year, however, was different. I had done a fair amount of scouting and had located a few gobblers on the place. The one roosted somewhere in the darkness below me was the one I was after. I had heard this gobbler and even watched him one morning as he danced for the multitude of hens around him.
The evening before, as I was out trying to roost a gobbler, he walked by me at 40 yards and then heavy wingbeats indicated where he would spend the night. The plan was laid and I would return in the morning. I asked Amy if she would join me for the hunt and she politely declined, almost knowing that there was something special about this hunt, and knowing that I should go at it alone.
The alarm woke me at 5:00 and I felt a sense of urgency pushing me out of the bed and I had more energy than normal for this time in the season. I dressed quietly, not wanting to wake Abby or Amy and slipped out the door fully expecting the rain they had been calling for. It was bone-dry and I looked at the stars and realized I was catching a break.
The drive over was filled with different scenarios playing out in my head of how the morning would unfold. Would he gobble? Would he have too many hens to cooperate? Could something have bumped him off the roost in the night? Would I be able to calm my nerves to make the shot if one presented itself? Stuff I never really worry about, but this morning was different, completely different.
I parked the truck in the familiar spot, gathered my gear, and proceeded up the mountain in the dark. There is no need for a flashlight as I could walk the trail blindfolded. I eased up the edge of the field and before entering the woods finalized my gear and made sure everything was in order. I wasn't sure what tree I wanted to be at, but I knew the general area. With the woods being so dry my approach above the roosted gobbler was not as quiet as I would have liked, but I slipped into position well before daylight.
As I was thinking back on past hunts a turkey gobbled over on the next ridge. Did I make a mistake by not going to him this morning? He was really gobbling, right in the very spot I killed my first gobbler on this place. Maybe he is the turkey I should be setup on? As the darkness faded away other turkeys joined in the chorus but "my" gobbler was silent. As it got lighter and lighter I could make out a few hen turkeys in the trees below me. It looked like I was going to have my work cut out for me.
As I was questioning my choice of turkeys to go after "my" bird gobbles 100 yard out the ridge to my left. "Yes!" Over the next half hour he only gobbles a time or two more, while the other turkeys are trying to out-do each other. Then, as if on cue, the big gobbler flew down onto the face of the hillside where I am waiting. One hen glides across the creek and to the other property. Two other hens fly down on the finger ridge to my right. I could hear the gobbler below me walking in the leaves. I could never see him as he headed toward the hens that I was certain were feeding just out of sight.
The leaf crunching fades away and I think the game is over when I glance to my right and see his tail fan, and him pirouetting for the hens I knew were right below him. Some soft calling got him to turn my way, but would he actually leave the hens to come over and see the new girl on the block? Like so many times before, I had my doubts. He continued to strut back and forth, just over the crest of the hill so I could only see his back, head, and fan most of the time. This went on for what seemed like an eternity, when in fact, it was only about 15 minutes. Knowing the hens would not stand there under the hill all day I decided to get a little more aggressive with my calling and hope he would break away from his harem. He must have liked what he heard as he started showing a bit more interest in the unseen hen.
He finally broke and started coming, just to my left on the side of the ridge. I had a couple shots but wanted to capture as much video as I could. He went behind a clump of trees and I adjusted the camera, got the gun up, and waited for the shot. He came around the tree, raised his brightly colored head and I squeezed the trigger.
As I stood over the fallen gobbler thoughts were rushing through my mind about what had just happened. I have killed many turkeys in the past, probably a lifetimes worth, but this turkey and this place and this moment was unmatched. When I knelt down beside the beautiful gobbler, smoothing out his feathers and grasping the sharp spurs and long beard, I knew I wasn't alone. The Good Lord looking over one shoulder and Pa-Pa looking over the other. It was then that I realized, as the rain started falling, this turkey didn't stand a chance.
In Memory of Pa-Pa Fred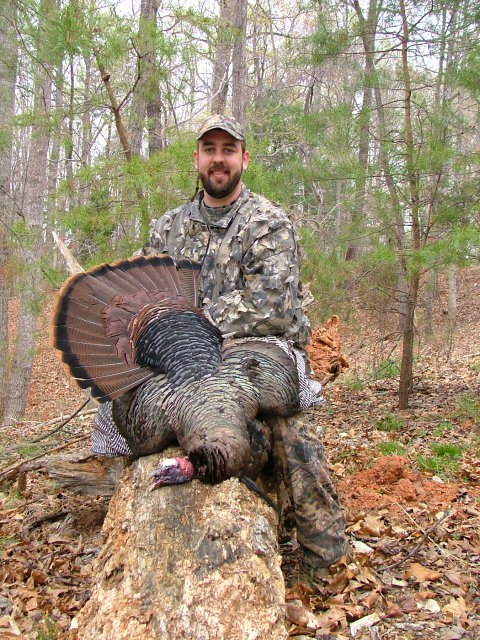 April 17
I was asked by GN to join him on a spur of the moment trip to KY to hunt their opener Friday and Saturday. We arrived early enough Thursday afternoon to get driving familiar to the property we were going to hunt the next morning but we did not walk in the woods or get any roosted birds located from the road. We had no idea what to expect although the other guys at the motel that had hunted the nearby counties before were optimistic about the hunting.

The next morning GN and I floundered around in a creek crossing and GN got wet to the kness… it was 40 degrees, but we finally got headed up an old logging road to the top of a steep ridge and await daylight. GN said "The next 15 minutes is going to tell us a lot about how our day is going to be!" 5 minutes later a gobbler sounds off 125 yards away straight down the ridge from us. We quietly slipped 20 feet next to a couple trees and waited to see what would happen. A couple other gobblers joined in with the original bird and we thought there were 3-4 gobblers in front of us. While waiting for flydown the birds stopped gobbling and we started getting worried that some other hunters had bumped them. Sure enough, 5 minutes later 2 hunters walk up on us and GN tells them they are trespassing and need to leave. They didn't argue and headed back. Probably 15 minutes later we get the turkeys to gobble again but further out the ridge. We could hear hens around us and with them too. They would answer pretty regular but until GN and I started calling together and doing some serious flock talk cutting they were hanging back. The aggressive cutting tore them up and they broke away and here comes the original bunch of turkey, plus 2 other gobblers from different directions and they were going to converge in our lap. Finally heads and fans started popping up and GN and I were able to communicate to get 2 birds in the open, I clucked, he counted, we shot, and down went 2 beautiful gobblers!! What an incredible first morning in KY!! 45 minutes after first light.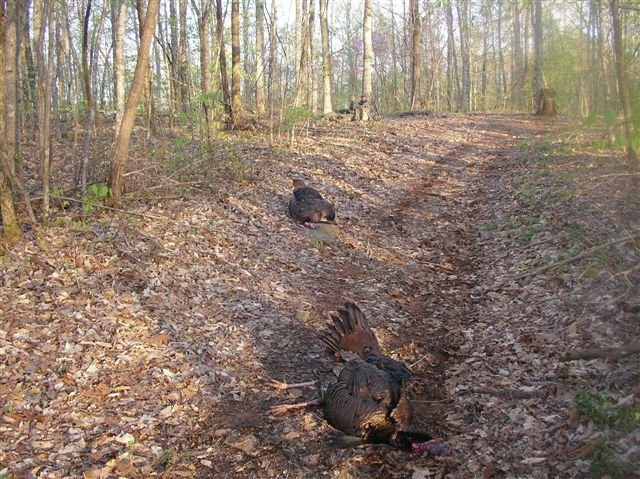 You can see me in the background setup to the left of the road waving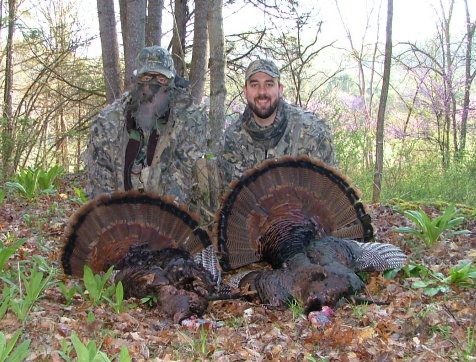 Our hosts offered to show us around a couple more places during the day and we had some nice options for the next mornings hunt. Later that evening we were invited to a little party and GN fried up some turkey breast from that mornings hunt and we had a great time fellowshipping and eating!

The next morning we again slipped into a spot we had only seen from the road and setup in a point of woods. As if on cue, the whippoorwills stopped, an owl started, the cardinal sang, and a couple turkeys started gobbling. One in front of us and one behind us. GN turned the face the gobbler behind us and I was facing the other bird. After a little flydown routine the bird in front gobble hard all over it, but the woods behind us went silent in the area where the other bird had gobbled. I was intently watching in front and GN was covering the back door, as we were just doing a little very faint flock calling, when the bird behind us gobbled just under a rise from only 30 yards away and we actually jumped when he gobbled. In just an instant the big white head came over the hill and GN let the air out of him at about 20 yards with the 10 gauge! A 11 inch beard and spurs of 1 1/8 and 1 1/4. It turned out there was another bird right there in tow, which we did not realize until after the shot, but he didn't stick around to even try and jump on the other turkey.

We sat right there to see what else would happen with the bird in front of me. He gobbled a time or two more at 125 yards but behind some fencing that we are now able to see after it got light, but he was not really affected by the shot, so we got up and relocated on him. We slipped to the edge of a power line right-of-way and I spotted a hen feeding about 100 yards away and the birds were gobbling in the woods behind her. All of a sudden, the hen stands erect and starts putting, when out of the woods flies a big red-tail hawk and he hits the hen right in the side. He knocks her to the ground then flips around and lands on her back, trying to pin her to the ground. She managed to get her feet under her and run back into the woods, but the turkeys were totally spooked at this point. I have never seen anything like that before so it was pretty neat, but that setup was history as a more basic instinct, survival, had overpowered the mating urge for a while in that spot. We circled around 150 yards towards where we saw the gobbler run , setup and just started blind calling a little and finally the birds settled down and we had a bird gobbling again. This bird sort of hung out there for perhaps 30 minutes and then GN, who was set up behind me 40 yds, started moving around behind me, scratching and calling trying to bring the turkey in. After he got back 75 yards behind me he pulled out his Cody slate and cut loose and another bird gobbled on the next ridge over perhaps 125 yards in another direction . A repeat of the Cody jubilee brought an instant gobble, and GN quickly scratched his way back towards me 40 yds and got down flat on his back. In just a few minutes the new bird gobbled again close, and the next gobble was just over the ridge. Soon, I saw his bright red head crane up over the hill and start working our way. I knew I would have to shoot when he came out behind a large oak. It would be a fairly long shot, but I felt good about it and the bird went down.

The limit in KY is 2 birds a season so GN and I took some pictures, loaded up the birds, and headed home from another great adventure!! We figured we were in the woods less than three hours. Thanks again to our hosts and GN for another great hunt!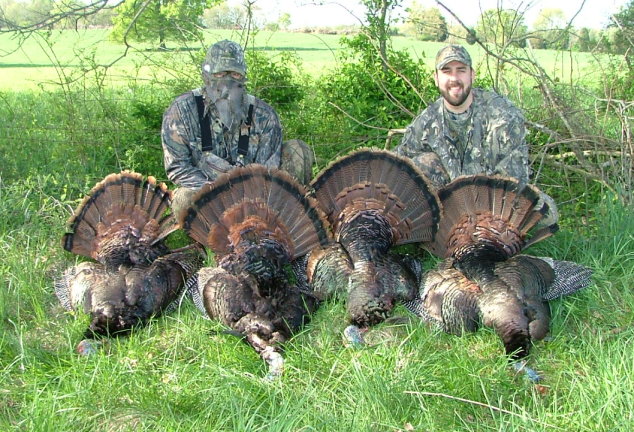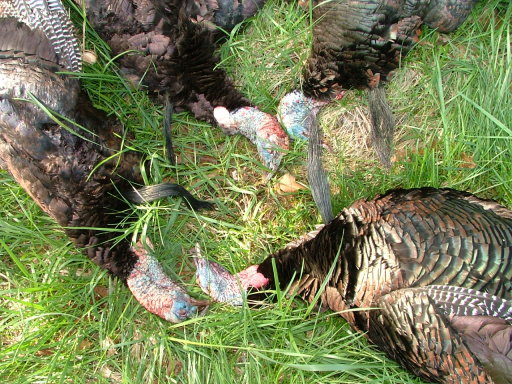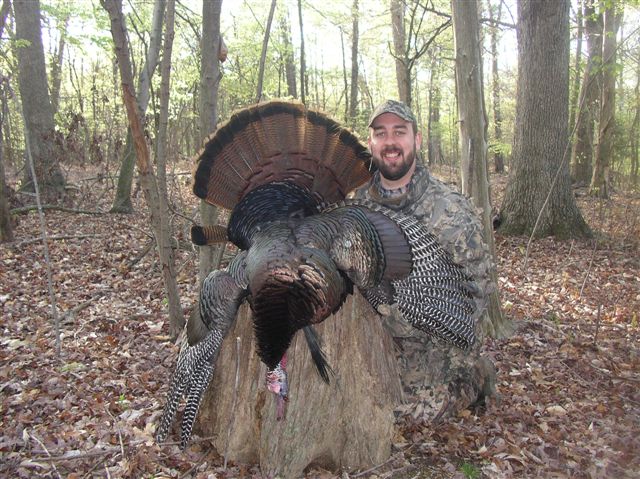 Got back in town and took another friend out for a hunt on Monday AM... Here's the story from his point of view-
Sunday, April 24, 2005
Hunting about the experience, not the kill


By Mark Taylor
981-3395
The Roanoke Times


"There he is."
My buddy Freddy McGuire whispered the words with an interesting combination of urgency and calmness when he was the first to spot the gobbler's head about 30 yards from where we sat frozen against the trunk of a massive pine tree.
A moment later the bird came into my view, strutting from left to right, his profile mostly obscured by a large log and a tangle of deadfall limbs lay between us and him. I could see only the top of his fan, his radiant white head, the front of his breast and the top few inches of his beard.
The moment was an almost perfect replay of our first opportunity that morning. Thirty minutes earlier two gobblers had made the exact same approach. Freddy was shooting everything on video and got good footage, but I wasn't in the right position and couldn't get off a shot before the birds eased away.
This time I was ready. I shifted the gun slightly and clicked off the safety.
Freddy had the bird in his viewfinder.
"If you can kill him," he said, "kill him."
When our Monday morning hunt started nearly two hours earlier I was more excited than usual. My dad was in town for a visit and I'd persuaded him to tag along. Although Dad lives in the best turkey hunting county in Oregon, he is not a turkey hunter. This was his first spring turkey hunting experience and I hoped it would help him understand why turkey hunting can be so addictive.
We set up first near the point of a little finger ridge on the Bedford County farm. Dad and I sat against two adjacent trees while Freddy sat about 10 yards behind us with the camera. As first light approached, we waited.
When the first gobbles came, we didn't like what we heard. The two or three gobblers were roosted on an adjacent ridge, about 300 yards away. Because of the lay of the land, we had to retreat to the truck and drive to another part of the property to reach the birds.
After a 10-minute trip, we were back in the woods. Freddy blasted his crow call and was immediately answered by a gobble.
"Those turkeys are right over there," he whispered, pointing to the northern edge of the ridge.
We eased out another old road, which was torn up with fresh turkey scratching. Obviously these gobblers had plenty of company from hens.
The sound of scratching soon froze us. Fortunately the birds were on the downhill side of a small knob and hadn't seen us.
The top of the knob was a perfect spot to set up but we couldn't risk slipping up there. So we took the only option we had and the three of us sat up against that big pine, our view of knob partially obscured by the tangled limbs of a fallen pine.
Fifteen minutes later, the first two gobblers showed up, gobbling enthusiastically in response to our yelps, clucks and purrs.
Our disappointment when they retreated was fleeting because 10 minutes later we heard a bird walking behind us. Freddy slowly looked over his left shoulder.
"It's a longbeard," he said.
Despite steady gobbling from the other birds, the longbeard stayed silent as he eased through the thick brush. I was able to turn on him when he stepped behind a big beech tree but by then he was 50 yards away and out of range. He eventually retraced his steps but stayed just out of range.
Not 15 minutes later I had my bead on the head of the bird in front of me. The shot would be difficult as I had a window just four inches wide between a standing pine and a big limb from the deadfall. Amazingly, the turkey walked into the opening and I pulled the trigger.
When I reached the turkey, my heart sank.
The bird had gobbled like an old gobbler, strutted like a cocky gobbler and toyed with us like a smart gobbler.
But it wasn't a big gobbler.
"It's a jake," I said.
With its 5-inch beard, the year-old bird was legal. At nearly 16 pounds it was also nearly as large as some 2-year-old gobblers I've killed.
But like most spring turkey hunters I was gunning for a mature gobbler.
Dad didn't know what to say, but Freddy did.
"It's not about the bird," he said, almost scolding me. "It's about the hunt.
"And that was just awesome."
He was right, of course.
For an hour we'd been covered up with turkeys, many of them gobbling their fool heads off. We'd had at least five birds within shotgun range before I killed one - with one of the best shots I've made on a turkey, no less.
I was physically and emotionally drained from the tense action. Freddy had the whole thing on tape and, best of all, Dad had been there to share it with me.
The only thing I had to be embarrassed of was my initial, ungrateful reaction.
"I think sometimes we forget why we're out there," agreed veteran turkey hunter Richard Pauley of Buchanan when I told him about the hunt.
Freddy no longer includes stats in the hunting diary he keeps on his vaturkey.com Internet site. That's because inches and pounds are not the true measure of a hunt's success.
The experience is.
And by those standards Monday's hunt was one for the record books.
April 18th
I took our cousin out this AM on the family farm and had a great hunt with him as well. We had turkeys gobbling all around us and several jakes right on top of us. After fooling with the jakes for a while the big gobbler decided to show and he ran the jakes off but wouldn't come quite in range for him to kill him. He drifted off back over the hill to the hens but the jakes came back and my cousin had been through enough and decided to shoot one. Another nice super-jake!
April 21st
I'll let Tim tell about this hunt...
Was not sure how to title this post, but what a day Friday was. I went to join Freddy with WVBoy(Randy) for a hunt Fri am. I was the tag along and was there t enjoy friendship. As we climbed the mountain early we heard a few gobbles up higher than we were so we climbed as close as possible to the birds. After flydown they shut up and a few hens came in to join in on our conversation. We thought the gobbler would be in tow, but he was not. After this conversation with the hens and us calling and having a good time, we get up after the hens walk off and make a call...GOOOBBLE, way off. We start toward him and after about 100 yards call to check his position..GOBBLE he is CLOSER. We move about 30 yards and check him again, he is close so we set up FAST. After a few soft calls there he is head up and then strutting at 60 yards. All of a sudden he lifts his head putts and goes over the hill. I have no idea what he saw but he did not like something and spooked, so we called agian and he gobbled just over the lip of the ridge. In an attempt to pull him back up I belly crawled up the hill to make him think the hen was leaving. He gobbled at us a few more times as I called from a distance and then nothing. After checking a few spots we headed to another spot. I hit the crow call and we heard 2 gobblers...WAY OFF. We walked quite a ways and heard a few more gobbles. After getting about above where he was I crow called agin and the far bird gobbled. We got set up. Randy and I sat Side by side ona big oak and Freddy was behind us filming. I laid my gun down beside me and Randy used my knee as a rest. The close bird boomed at Freddy's calls and came up the ridge. We then saw him in FULL STRUT. He was missing 2 tail feathers and looked like a nice bird. We watched him for at least 20 minutes as a tree kept blocking the shot.Finally he came up the hil and raised his head Randy took the shot, or should I say attempted the shot. A LOUD CLICK resonated from his gun. As he tried to rack another shell in I saw an open chamber. I made a snap decision picked up my gun and shot the gobbler. My shot was a bit low so he flopped. I ran after him so he did not roll all the way down the mountain. In the process I twisted my ankle pretty bad. We still heard the other bird gobbling so we went after him. As we got to the bottom he shut off. Freddy called again and at 40 yards a COYOTE popped up. My gun was unloaded and Randy did not see him until he blted. Game over. After we got back to the truck and climbed out the bird gobbled again way down in the hollow. It was 11:45 so time did not allow for a setup. What a great day. I had a blast even though I have a bum wheel now. I will let Randy and Freddy chime in to this post. I know Randy felt pretty bad about the incident but I think he redeemed himself..We'll let him tell that story. I know Randy will be hunting the WV opener so he will not post for a while.
My bird was a mountain warrior. He had thick black 1 1/8 spurs and an 8 inch beard. HE only weighed 14.5 pounds. We were very surprised at his weight, and I promise you he had been doing some serious strutting and fighting.
Thanks to Freddy and Randy for quite an enjoyable outing.
April 22
And I'll let Randy tell about the next day...
I can't take much credit for this one.. Freddy did most everything but pull the trigger..

Saturday morning it was calling for Rain and we made plans to pitch the pop up blind and hunt a field .. after my mishap that turned into good fortune for Hody the day before I just wanted another chance.. This time I would not forget to load the gun. Anyway when I woke up and went outside the stars were shining and no wind or even a hint of Rain .. soon after Freddy woke up and ask me what I thought.. I said well if you think it won't be foggy I would rather run and gun on the mountain again .. (I love to hunt like that and I think both Freddy and Hody do too) .. so we headed over to his place and as we were driving we could see the top of the mountain with fog at lower elavation .. so he ask me again and I said let's climb it.. he said good answer

So we climbed and half way up a dog barked and three birds gobbled right back somewhere close to where we parked.. so he went back to get a better fix on them and Freddy hooted and decided they were off the property .. so we climbed again and found a bird we think was the same bird we had called in the day before and couldn't get a shot at.. anyway we gave him a try for a while but he wouldn't leave his strut zone.. so Freddy said let's leave him and do some hen talk on the way out.. all the while some birds had been hammering on down toward the farm house .. so we went that way doing some hen talk on the way down and the bird we had setup on couldn't stand it.. he doubled and triple gobbled at us to come back .. but we went on figuring in a couple hours if nothing pans out we would make our way back and he might be ready be then..

So we got to the bottom and the fog was thick and nothing was gobbling.. we got a hen fired up behind us and then the fog blew out and gobblers started singing from everywhere.. we had one across the road for our setup and two or three accross the lake and then three in a field to our right .. then Freddy called in a Hen from in front of us.. that was fun.. she came to within 10 yds.. then the fog rolled back in and all was quiet again.. as soon as it lifted again they would fire back up.. anyway long story I know but the gobbler closer to us drifted the other way and the ones in the field to our right kept hammering so we decide to make a move on them.. went to the truck went up the road and parked within 100 yds of where Freddy thoughr they were .. this time I remembered to reload when I got out.. we snuck up a fence row with Freddy in front.. he peaks over a knoll and quickly kneels and says I see turkey heads.. I belly crawl up in font of him on a fence post and setup.. he yelps a few times and nothing.. he says maybe they saw me.. stand up and see if you can get a shot.. I slowly stood and I saw one turkey head at 75 yds further then when Freddy saw them and walking away and into the woods .. I turned and whisper back what I saw and Freddy move up to me and says lets try to call them back.. he yelped a few times then cut and GOOBBLE .. sounded like a long beard.. he cut again and Goobble Gobble .. sound like two Jakes to me.. he yelped and purred a few times and I whispered I see heads.. not sure what they are last ones sounded like Jakes.. This while we were both standing next to a fence post mind you.. then I see one come a little further up the hill and I see a beard.. I whisper LongBeard .. then smack him in the head with some Nitros..

It was the definition of a flash hunt.. we parked within a 100 yds of them and snuck out a fence row and killed the bird within 5 minutes..

2 year old
20.3 lbs
9 3/4 beard
7/8 spurs ..

Awesome couple of Days with VA Turkey called in five and killed two.. bet we heard 12 gobblers on Saturday.. great host and Amy and Abby both treated me like family.. some of the best folks you will ever meet.. hope they let me come back some day..

Here is a pic .. Freddy can add one later with the both of us from his digital.. probably better quality than mine




May 4th
I've pretty much been out of town and hunted a day or two in TN and WV while traveling but nothing really exciting to report. A few birds gobbling, but either bad weather or hens beat us out. I'm going to try and get out with Amy and some friends an evening or two and of course, still hunting in the morning.
May 10th
Franklin County, Va - An early morning fire has left several monkeys homeless. The fire started at 6:16 am yesterday morning. Fire crews from the surrounding area were called to help put out the blaze, but the 20 story building burned to the ground.

Fire investigators have determined that the fire started from a small explosion. They believe the explosive device was no bigger than a 12 gauge shotgun shell.

Officials were interviewing all witnesses and they described two men dressed in camo, one complaining about his stomach and one saying that he would get into better shape before next hunting season, who were most likely the culprits.

Officials also believe these men may be responsible for the disappearance of a local. Tom Turkey, age 2, was last seen with a friend just before the fire began. The friend, also named Tom, stated that he heard the explosion, fled the scene and hasn't seen his friend since.

In all seriousness, Freddy and I went out yesterday morning trying to evict a monkey. We went to Freddy's honeyhole and heard these two birds gobbling. We hurried to get to the field edge before they did. We beat them with about a minute to spare. When they gobbled, the two gobblers were almost within range and Freddy and I were hugging trees REALLY quick. Fortunately, the birds were just over the top of the ridge, so we could get into position without getting busted. The birds were working to our left and being left handed, I had to move around to keep in front of them. Freddy was purring to help hide the sound of me moving. The birds were walking in the leaves and making more noise than a deer coming through. The gobblers stepped out from around a tree and one got a tattoo from my Browning. The total time from when we set down to when I shot was no more than 2 minutes. Freddy said later that he thought the gobblers were the ones Amy missed earlier in the season. I told him that I would DEFINITELY thank Amy for saving them for me


Freddy and I got to the bird and I looked at my watch. 6:16 am. Definitely the earliest I've ever killed a gobbler. The bird was a good 2 year old, 20 pounds, 10 inch beard and a 7/8-inch spur on one leg and a broken 5/8-inch spur on the other.

Thanks to Freddy and Amy for everything they did to make an enjoyable hunt that much more fun and enjoyable.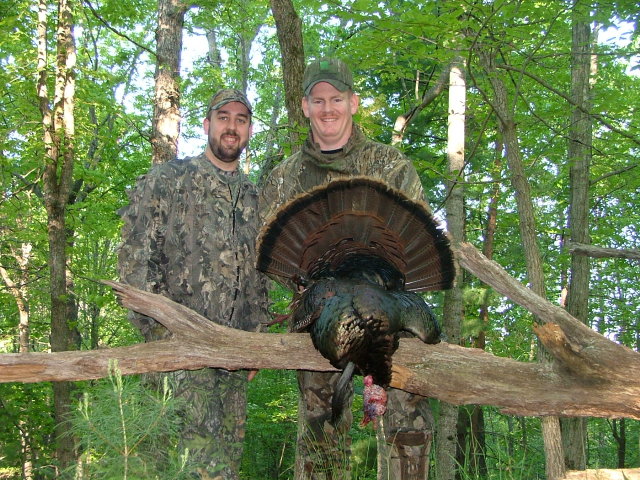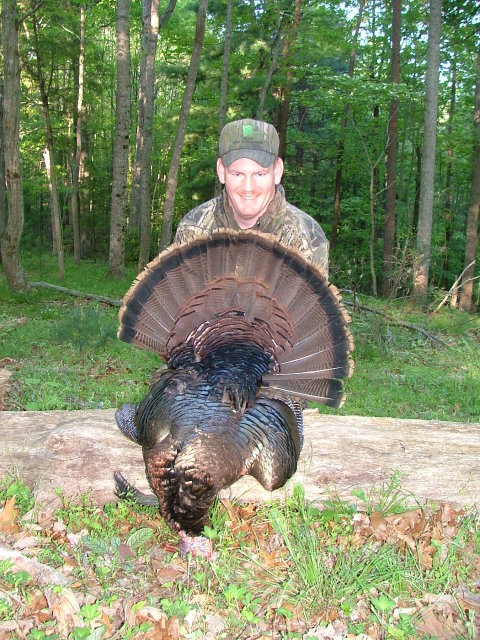 May 14
Robbie had a pretty tough season for one reason or another... but on the last day we were able to get on this nice gobbler that I had roosted the evening before.

The next morning we sat down REALLY close to this gobbler, knowing that he had been pretty elusive throughout the whole season and wanted to get in tight on him. We were tight alright... at daylight I could see the gobbler roosted about 35 yards away, just down the ridge from us. We actually had a perfect setup, however, he just didn't want to fly down. We started hearing some jakes and hens coming in behind us and were able to call them right up to about 20 yards. We just knew he would fly down now. Nope... the hen with the 4 jakes decided to fly up in the tree with the gobbler! Long story short, they sat in the tree until 8:55 AM and finally the gobbler flew down, and the hen followed. They flew down on a small finger next to us and Robbie re-positioned for a shot. When the gobbler finished breeding the hen, Robbie killed him. It was a fitting end to a great VA season for me and a tough season for Robbie.

One interesting note about this gobbler was the double-snood. I had never seen one like this before -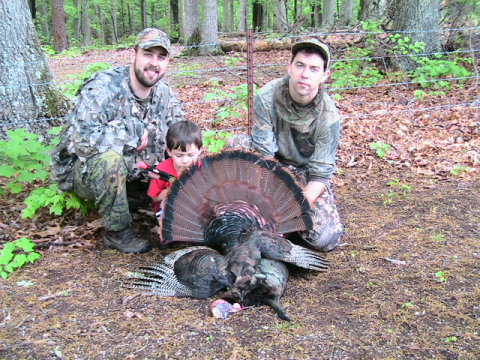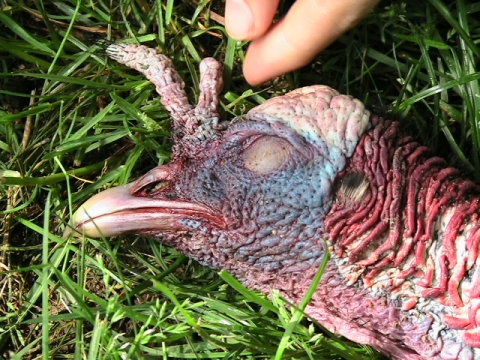 May 23
Thanks to WVBOY! He was nice enough to invite me up for a hunt to his stomping grounds in WV for the last weekend of the season.

When I arrived on Thursday afternoon Randy's Dad informed me that he had heard a turkey that morning on his "scouting/listening" route on his way to work and that would be the bird we would hunt. The weatherman was saying showers, then rain, and rain, and possibly some rain. Not being deterred the next morning we woke up to… yep, rain. We threw on the rain gear and headed out to hopefully be in the part of the world where the turkey gobbled the day before. Heading up a ridge in the rain and darkness you couldn't help but think, a turkey would be crazy to gobble in this! We were right… and never heard a bird! That didn't stop him from coming to Randy's calling though! After listening for a good while and catching a break or two in the rain Randy said let's go ahead and setup and see what happens. Randy threw out a few soft yelps and we sat back and waited. 7-8 minutes into the wait I heard the unmistakable sound of a turkey spit… right behind us! The woods we were in were fairly thick and I thought the gobbler was further that he was. I was going to slowly turn my head and see if I could spot him up the ridge. I got my head all the way around but as I was scanning the forest we heard a dreaded putt. I tried to roll around and actually got my gun on the bird as he was departing, but didn't take the risky shot. He wasn't spooked that bad… we would be back! We headed off to another spot and called and prospected some but nothing else was talking. I headed on to work in one of our offices close to Randy's.

The next morning, the last day of the season, we planned to get back in woods with the gobbler from the morning before, hoping he wasn't spooked bad, and that he would gobble… and boy did he! As we were climbing the ridge, in order to get on the other side of him, he gobbled, in the pitch back foggy darkness. I looked at my watch… 5:20. Randy and I slipped into position, closer than you would have normally been able to get since it was so dark and he was gobbling every 30 seconds to one minute. I setup 15 yard in front of Randy and waited for daylight that was still a ways away. His gobbling slowed as it got lighter, and then we heard a hen soft yelping, every time he would gobble. RATS! The fog was heavy and we thought it would be a while before either of them flew down. As I was sitting there relaxed listening to the morning unfold I was surprised to hear and then see the gobbler pitch down about 80 yards down the ridge from us. The hen soon followed. When the gobbler flew down, Randy did a few fly downs with the wing and then followed shortly with a few soft yelps. The bird didn't answer. We waited a while and gave a few more soft calls with no response. In about 5 minutes the bird gobbled on his own about in the spot where he had flown down. Randy quickly yelped back at him and he gobbled hard in response… his next gobble was closer, just on the other side of some low pines that were scattered throughout the woods where we were setup. Randy gave him a few soft purrs and that closed the deal. Finally, I saw his white head coming at about 30 yards and was waiting for him to step into one of the few shooting lanes I had. Just as he was about to step in the opening, as they so often do, he turned, actually heading back the way he came but angling to the right. I had another lane to shoot through but I had to shift my body to get the gun lined up. He saw me shift ever so slightly and putted, but it was too late and the shot was on the way. I quickly got up and headed down the hill below him because if he flopped very far he was going a LONG way down the hollow. He wasn't going anywhere and I as I got boot on his head, I gave an owl hoot to Randy to let him know the bird was dead. He got there quickly and the hand shakes and back slapping commenced. It was a great hunt for a great, old gobbler. His long ivory colored spurs taped out at 1-3/8"

Thanks to Randy and his wonderful family for treating me to a wonderful time and some great hunting and fellowship. Like I told Randy… "You killed it, I was just lucky enough to be the triggerman!" Thanks again… that hunt capped off one of my best seasons ever.